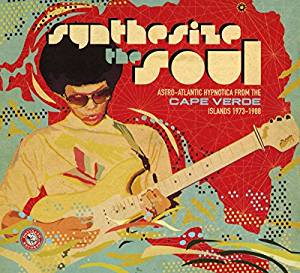 Synthesize The Soul: Astro-Atlantic Hypnotica
Ostinato records
When I was studying anthropology, one of the topics I was really interested in was cultural diffusion. I was fascinated by the way ideas moved from culture to culture, place to place, changing and adapting as they went. All of us who are music wonks know several stories of cultural diffusion, even if we don't know that's what it's called. You have blues making it's way out of the rural south, getting mixed up with hillbilly music and eventually coming back across the Atlantic as the British Invasion. There was also Caribbean music filtering up to the port of New Orleans where is got mixed up with jazz, creating R&B, which later got imperfectly copies in Jamaica giving birth to ska and reggae. I could go into more detail (and I have in academic papers over the years), but the point is that we're all connected in interesting and unexpected ways.
Synthesize Soul is a beautiful case study in ideas hopping back and forth between the Cape Verde islands and mainland Europe. The compilation charts the interaction both musically and technologically between the islanders' rhythmically exuberant indigenous music and trends in dance music.
When Cape Verde was a Portuguese colony, they were pretty isolated and had no real access to electronic instruments. When the islands gained their independence in 1975. It ushered in a period of political and economic turmoil, which lead to the migration of Cape Verdeans to Europe and America. In their new homes, music and dance were an important link to the home islands. The people didn't just want some sounds from home; they wanted something that reflected their immigrant experience. Cape Verdean musicians adapted synthesizers and eclectic guitars and bass to their traditional music. The resulting hybrids changed the music back home as musicians brought synths and MIDI technology home,
About half of the songs on Synthesize the Soul feature Paulino Veira in some capacity. Viera made Lisbon a hot spot for Cape Verde musicians cooking up new sounds. Nos Criola opens the compilation with bracing rhythms, funky bass and the occasional odd disco sound effect. Val Xalino's track, "Danca, Danca T'Manche" sounds like it could have been from the Talking Heads, Remain in Light sessions. Who knows, maybe Byrne and Eno were listening to Xalino?
Today, the Cape Verde islands are a stable, democratic country considered one of the success stories of postcolonial Africa. The music on this compilation comes from a time of stress, when migrants took refuge in other countries. The migrant experience produced a flowering of artistic expression that you can sample on this disc.
---