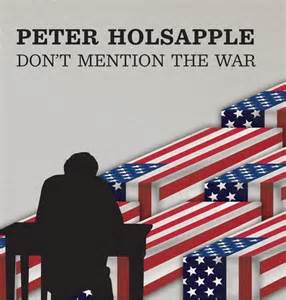 Peter Holsapple
Don't Mention the War/Cinderella Style
Hawthorne Curve Records
One can't complain of over-saturation from Peter Holsapple. After creating brilliant power-pop and roots music first as a founding member of The db's and then as a part of the Continental Drifters, Holsapple has laid low for decades, with this vinyl release being the first to bear his name in 20 years. But hey, we ain't complaining.
First up is the poignant, Neil Young-ish "Don't Mention the War", a sober look a family member suffering with PTSD. This isn't the "jangle guitar" of his work with the db's or R.E.M., but rather an eclectic blend of low-key piano and somber vocals, which shares the nephews anguish – and hope – as they try to avoid the trauma. In this day and age, the song will relate to sadly all too many whose life has been turned upside down by the horrors of war.
"Cinderella Style" is a bit of Lee Hazelwood-styled pop, with some lovely flute from Skylar Gudasz and Holsapple's understated vocals reminding you of some lost '60s 45 you forgot you had. Holsapple says a new album is coming this year, but for now, we have a pair of fine examples of one of the most underrated artists around. Welcome back, Peter!
---