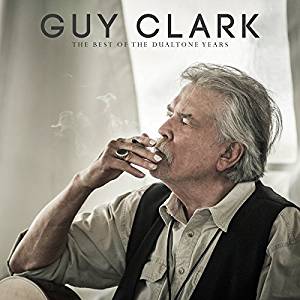 Guy Clark
The Best of the Dualtone Years
Dualtone
When we lost Guy Clark in May of 2016 we were left with the sad realization that the "King of the Texas Troubadours" wouldn't grace us with another album of his uniquely human songs. He only released twelve records since his debut masterpiece Old No. 1 in 1975- but there is nary a bad tune in the bunch, and in his later years – from 2006 to his death he was on Dualtone Records, and his output never wavered from his own high standard. His final record, 2013 My Favorite Picture of You is an incredibly poignant, open record, with a title song (included here) that, as they say, "will tear out your heart and stomp that sucker flat". Clark was a master of those.
This 2 CD collection of tunes from his studio and live records on Dualtone contain concert versions of older favorites ("Dublin Blues", "L.A. Freeway" and "The Randall Knife" among others) and choice moments from his 3 last releases. If you don't brush back a sad tear listening to "Magdalene" or his sublime version of the Townes Van Zandt classic "If I Needed You" then you're a stronger man than I.
But the real news here is the last 3 cuts of unreleased demos. First up is "Just to Watch Maria Dance", with Clark's deft manner of painting a full portrait using only spare brushstrokes, pushed along with his low-key fingerpicking. "The Last Hobo", written with Hal Ketchum sounds like the sequel to Clark's "Desperados Waiting On A Train", full of figures near to the end of life, but still vital and relevant in the world that Guy strived to create. The last, "Time", co-penned with the great Marty Stuart, is a wry look at the ravages of the calendar, as only Guy Clark could say it.
For fans of good songwriting the death of Guy Clark was a huge blow, and one that some, including myself, may never fully get past. It's sad to contemplate a world without his intelligence, grace and cutting humor serenading us, but as he would most likely say "That's life…get over it." This timely collection will help.
---