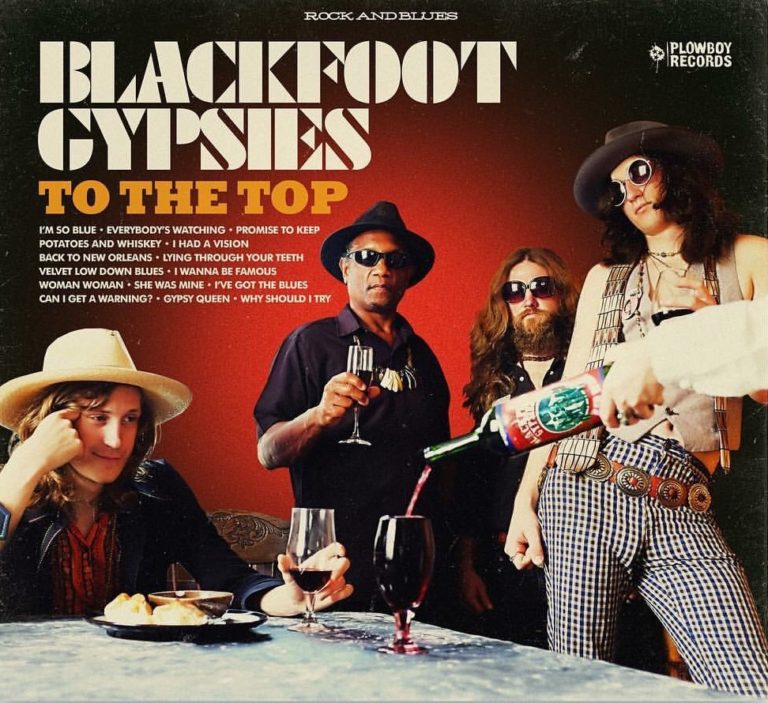 Blackfoot Gypsies
To the Top
Plowboy Records
There I was, hanging out recently with my #3 compadre, when the mailman (finally) delivered this eagerly-anticipated record to my humble abode.
I had my buddy open the package and pop it into the ever-faithful hi-fi. Upon previewing the first 30 seconds, I had to inquire – "So, whaddaya think?" With rapid-fire reflexes, the 15-year-old shot back – "It looks and sounds like a record from 1968 that I just bought at a thrift store." Hmm, out of the mouths of babes – a perfectly worded, concise and accurate review. Please allow me to expound.
With the spring 2017 release of their third full-length slab, Tennessee's roots rock titans, Blackfoot Gypsies have dropped a doozie – a near-indescribable 15-gem treasure trove – 60 minutes worth of British-style, blues-based rock colliding head-on with American-made, country-tinged folk.
Simply put, To the Top is Edmunds and it's Dylan. It's Garcia and Guthrie (father and son). It's even a bit of Bo Diddley mixed with a lil' Miss Loretta. To put it another way, To the Top is also "Dixie Chicken"-meets-"Sweet Virginia" in Levon Helm's Jacuzzi.
Bursting with Kinks-style high-energy, low-fi gusto, "I'm so Blue" kicks the record off with a bang – followed immediately by the turbo-charged double-whammy combo of "Everybody's Watching" and "Promise to Keep."
Other noteworthy tracks include the down home "Potatoes and Whiskey," the honest and pure "Lying Through Your Teeth" and the seemingly Grand Ole Opry-inspired "Velvet Low Down Blues." A powerful, guitar-driven highlight, "Why Should I Try" closes-out the record perfectly, like "a poor little greenie – ooh, ooh!"
In such troubled times as these, when so much new "music" is merely disposable synthetic slobber, To the Top is a particular treat – especially for those who still remember laughter.
---