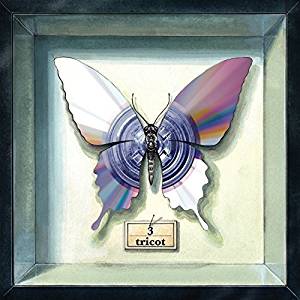 Tricot
3
Topshelf Records
Someone once said, "There are problems in this world but none of them are mine." There are certainly a lot of things we can worry about, but sometimes you just need to focus on something that makes you feel good. For some that would be a sunny day at the beach. I know folks who are revitalized by a long walk in the woods. Being an indoor type of person, I'm opting for the joy of discovering a band that makes me happy just by for being themselves. Today, that band is Tricot.
Tricot are three women from Japan who play an addictive brand of indie rock. There are some superficial similarities to my old favorites, Shonen Knife; both are trios of women musicians playing fun pop music. There are significant contrasts though. Tricot sing in their native Japanese and are musically influenced by the technically tricky post-rock crowd.
Since Tricot sing in Japanese, I can't really talk about what they're singing about. It doesn't really matter that I don't know what they're saying; I feel the joy coming through their voices. I am enthralled by the contrast between the sweet melodies; lush vocal harmonies and the post-Beefheart fractured rhythms and jagged guitar riffage. If you could separate the voices and the instruments you'd almost have two different songs. The contrasts, contradictions and tensions in Tricot's music makes it a happy challenge. Forget the world's problems for an hour and get lost in 3.
---