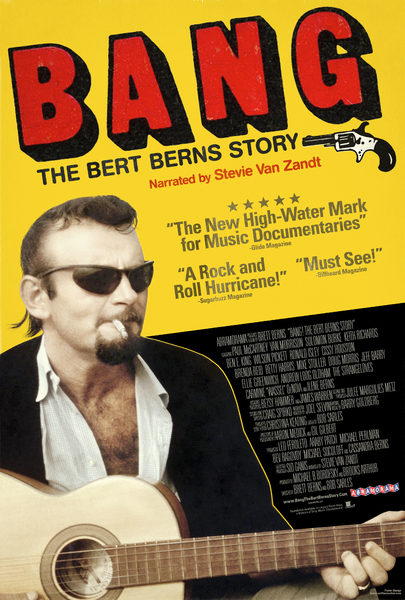 BANG: The Bert Berns Story
directed by Brett Berns
Abramorama
Billboard magazine calls BANG: The Bert Berns Story a "must-see." Reportedly ten years in the making, this debut from filmmaker Brett Berns has also been touted as a "mob-meets-music" story that's "greater than fiction." Simply put, believe the hype.
A native New Yorker growing up during the 1930s and '40s, Bert Berns wrote an impressive string of hit songs during the 1960s – timeless classics including, "Twist and Shout," "Piece of My Heart," "Hang on Sloopy" and "I Want Candy." Known as the "White Soul Brother," he also produced chart-busting R&B records for The Isley Brothers and The Drifters, as well as helping to later launch the careers of Van Morrison and Neil Diamond.
But the film's "bang" factor is bigger than a mere engaging tale of a man making memorable music. The true payoff is the riveting personal story of a music legend – the son of Russian Jewish immigrants – a guy who lived fast and dangerous, merging with moguls and cavorting with criminals, all while carrying the internal physical "ticking time bomb" that would take his life at the young age of 38.
Narrated by award-winning musician/actor, Steve Van Zandt, this compelling documentary delivers 90 minutes worth of "Who's Who" highlights – rapid-fire interview segments with the people who knew Berns best – from family and friends to such music icons as Paul McCartney, Keith Richards, Wilson Pickett and Cissy Houston.
For vintage pop / rock / soul fanatics who crave a juicy real life story, BANG is a "must-see," indeed.
---