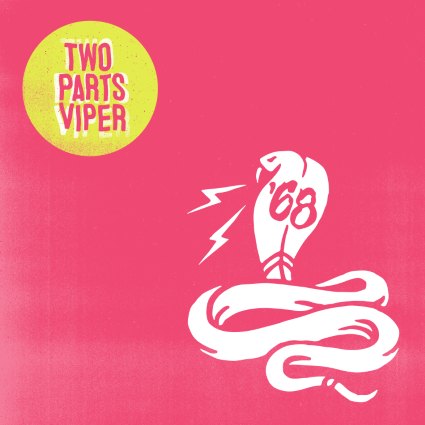 '68
Two Parts Viper
Cooking Vinyl
The past projects of the singer/guitarist of '68 is irrelevant. If anything, it's the embarrassing senior portrait that should forever stay buried in that yearbook in that box at your parent's house. Rather than dig up those softly lit, Olan Mills love letters to kodachrome nostalgia, prepare your ears for an everlasting gobstopper of sound that shifts from one flavor to the next while maintaining an equilibrium of chaos and melody. Less abrasive than their volatile debut In Humor and Sadness, what Two Parts Viper does is invite you in with the promise of cobra biting rage only to surprise you with a heavy blues garage punk explosion.
This should not work. This two piece bastardization of metalcore and legit blues punk, a band with roots that sprung from The Chariot and Norma Jean, should not be this good.
When the bold slow intro of album opener "Eventually We All Win," with it's ticking time bomb beat and nursery rhyme melody, ignites into an atom bomb or furious noise and a vocal effect that smashes up a Kurt Cobain growl with a Jack White yelp the tone is set for a band that knows know boundaries. The record dips its dirty toes in post-hardcore art rock waters, on "Death Is A Lottery," and gets straight up melodic grunge hit on "Without Any Words (Only Crying and Laughter)." "This Life is Old, New, Borrowed and Blue" is like a White Stripes song as performed by Rage Against the Machine and it's the perfect amalgam of noise and melody. Closing out the album is an uncomfortable howl of pain and rage as told through the voice of a desperate plea ("What More Can I Say"). It's barely listenable, but that simple fact makes it kinda brilliant. It's a final F-you that eventually irons itself out into a gorgeous outro.
If metalcore had to exist in order to allow a band like '68 to be born, than it existed for a good reason.
---