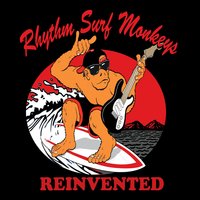 Rhythm Surf Monkeys
Reinvented
Once again singer/songwriter Jim Hiltz has gathered all-star players for his band the Rhythm Surf Monkeys. Hiltz continues to carry on the spirit of classic rock, and with this effort the heart of '80s and '90s AOR (Album-Oriented Rock) beat as robustly as they once did decades ago.
The title track has echoes of '80s rock as well as the guitar swagger of the Rolling Stones. It opens the album with youthful energy and an upbeat vibe. Its sense of familiarity is a large part of its appeal. Hiltz is well-versed in rock history, and he knows a strong hook when he hears one. This is the kind of stuff that used to explode from Camaro tape decks. However, the Surf Monkeys are no one-trick creatures. "I Forgot Who I Am" can be considered as a love anthem for rock fans. It fuses elements of soft rock, blues, and jazz. Listeners will be caught off-guard with its witty lyrics and clean musical arrangements. The brass instrumentation gives it a unique flavor.
"So Many Times," on the other hand, recalls B.B. King: Blues-heavy music with superb storytelling and palpable emotions. While the legendary King and Rhythm Surf Monkeys have distinct differences due to this record being a fusion of different styles, it nails the same emotion and passion that a great song must have.
Hiltz is an excellent songwriter. He is able to create music that is streamlined and ragged at the same time. He and his group have succeeded where many musicians are not able to, crafting consistently solid rock & roll and following it up with a better LP that provides the same enthusiasm and indelible hooks as the previous one, if not greater. The different artists who contributed in the record made every song fresh, cohesive, and positively impacting. There is no way to go for this group but up.
---