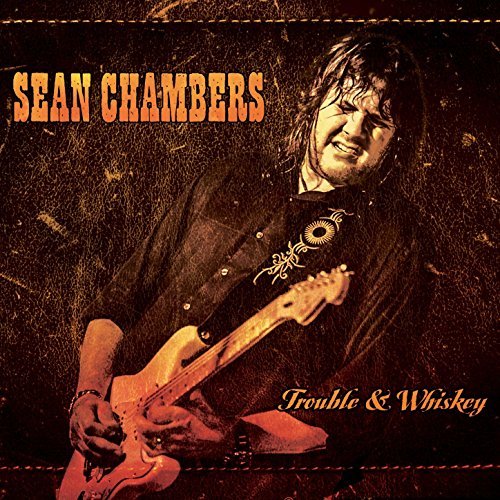 Sean Chambers
Trouble & Whiskey
American Showplace Music
If you're a blues fan and you don't know the name Sean Chambers, you need to school yourself really quickly, and Chambers' latest release, Trouble & Whiskey, is a perfect place to start. Touring with legendary bluesman Hubert Sumlin from 1998 to 2003, Chambers was named "One of the Top 50 blues guitarists of the last century" by the U.K.'s Guitarist Magazine, a worthy accolade indeed. Chambers fronted Blackfoot for about two years (2012-2014), but he realized that it was time to get back to his own band and sound. Influenced by Jimi Hendrix and many of the Texas bluesmen including Albert Collins, Freddie King, Billy Gibbons, Johnny Winter and especially Stevie Ray Vaughan, Chambers first musical interests were more rock and metal-based. It was when he first heard Hendrix that everything changed, and his interest in the Texas blues guitarists naturally steered him towards THEIR influences, including Muddy Waters, Howlin' Wolf and B.B. King. Incorporating solid Texas, Chicago and Delta blues with hints of rock into his killer guitar licks, Chambers' gravel-tinged vocals and worthy writing skills all meld together to create an extremely appealing collection of seven originals (written or co-written by Chambers) and three covers reinterpreted in Chambers' unique style. Produced by Ben Elliott and backed by bassist Todd Cook, drummer Kris Schnebelen and keys player Michael Hensley, Chambers' album also features guest spots by guitarist Jimmy Bennett ( who also co-wrote three songs), Hammond B3 player John Ginty (who co-wrote the track on which he appears) and percussionist Andrei Koribanics.
The record starts off strong with "I Need Your Lovin" and sets the tone for this guitar-driven, straight-up blues offering. Chambers' slide work is the real deal, too, and the second track, "Bottle Keeps Staring at Me," showcases it at its finest. Too many guitarists today don't "get" the "less is more" theory of playing guitar – it's not the notes you play but the ones you don't that make the difference, and Chambers DEFINITELY gets this.
"Trouble & Whiskey," the title track and one of three songs co-written with Jimmy Bennett, is a real down and dirty blues track, and one of my favorites. Hensley's understated Hammond B3 accents are the perfect complement to Chambers' searing blues notes that tell the age-old story of climbing out of the darkness and into the light because of a good woman.
The funky, upbeat "Travelin North" brings together Chambers and John Ginty (co-writers), and the call and response of Ginty's Hammond B3 and Chambers' axe is sheer brilliance. "Gonna Groove" and "Handyman" (featuring Jimmy Bennett on guitar) continue the funkadelic factor, while "Sweeter Than A Honey Bee" will get you moving for sure with some fun piano from Hensley.
In his killer homage to Delta blues, Chambers' slays the William Harris-penned "Bullfrog Blues" (opting for the Rory Gallagher arrangement) and totally owns it – his scorching slide reaches frenetic heights, complemented by Schnebelen's drum work keeping steady pace. Incidentally, Chambers has been performing this one live for some time, so it's great to see it make the album cut.
On the B.B. King/Joe Bihari cover, "Be Careful With A Fool," Chambers leans more towards the Johnny Winter version than the King version, and his Hendrix influence is apparent with hints of "Red House" subtly seeping through in the chords.
Texas bluesman Johnny "Clyde" Copeland's "Cut Off My Right Arm" is the last of the three covers and once again features Chambers' refined, ultra-tight guitar.
As a huge blues fan, I can honestly say that Sean Chambers is a powerhouse player and this new release is a testament to his ability as a blues musician. He encompasses the whole package, a rare thing to find these days. Most importantly, though, he knows who he is as a musician, and not only remains true to it, but does it brilliantly and seemingly effortlessly.
---