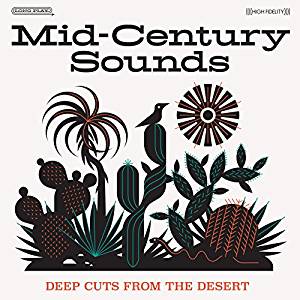 Mid-Century Sounds: Deep Cuts from the Desert, Vol. 1
Fervor Records
Small, independent labels and recording studios had their heyday during the '50s and '60s, supplying major labels with product and talent, a sort of minor-leagues for the big boys at RCA, Columbia and more. Today wanna-be stars can, for a few bucks, create finished material in their bedrooms on laptops (although what this says about the quality of such is an open question), but if you were a newcomer to the entertainment scene 50 years ago, you needed a producer. Elvis had Sam Phillips and his Sun Studios, Chicago boasted the Chess brothers who gave us Muddy Waters, Willie Dixon and more, and down in New Orleans, Dave Bartholomew was instrumental in bringing such luminaries such as Fats Domino and Lloyd Price to world-wide acclaim.
Floyd Ramsey was such a creature. During the 1950s his studio, Audio Recorders of Arizona was pivotal in not only launching the careers of artists such as Sanford Clark and Duane Eddy (who used Ramsey's parking lot water tank to create his "Twang heard round the world") but also engineer Jack Miller, who worked with The Rolling Stones and The Monkees during '60s in Hollywood, and producer/songwriter and all-around cool dude Lee Hazlewood (Nancy Sinatra, et al). You might not think of Phoenix being a hot-bed of creative souls, but this new collection of Ramsey's work, Mid-Century Sounds: Deep Cuts from the Desert, Vol. 1 showcases the depth of his talent pool.
From the western swing/Hank Williams-influenced "Never with Your Heart" by Ralph Smith with Bob Taylor's Western Aces, to the doo-wop of "She Is My Dream" by The Tads or the soul-jazz of the Al Casey Combo, Ramsey produced dozens of sides for labels such Liberty Bell and Ramco Records. While none ever achieved the chart success of Sun Records, they were solid, innovative records (such as "I'm Glad I Knew You" by P-Nut Butter or an early, folkish Waylon Jennings with "My World"), and without him, and other independents, rock and roll would have turned out a whole lot different. Let's hope we don't have to wait long for Volume 2!
---