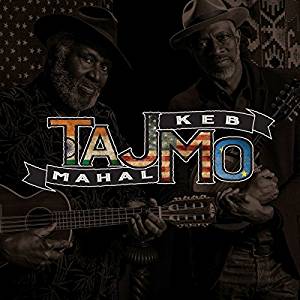 Taj Mahal and Keb' Mo'
TajMo
Concord Records
It was a year and a half ago while I was writing the official bio for Keb' Mo's website that I first learned of the intended collaboration between him and Taj Mahal. I vividly recall my stunned reaction as Keb' himself shared this esoteric tidbit with me during a phone conversation. The two iconic musicians have known each other for years and have performed live together in the past. Taj was even instrumental in assisting Keb' land his first record deal. This pairing seemed like such a no-brainer, yet while Taj has been on the music scene for over 50 years with 30 records under his belt, and Keb' has been churning out consistently incredible blues/roots material since the early 1990s, TajMo marks their first studio collaboration. It took two-and-a-half years to record, but the final result was well worth the wait. There is such mutual respect and chemistry between these two industry veterans, whose backgrounds are steeped in traditional and contemporary roots rock and blues, with each bringing his own unique flavor and sound into the mix to carry on the blues tradition. Taj sums it up beautifully: "We wanted to do a real good record together, but we didn't want to do the record that everyone expected us to do. There wasn't a bunch of cryin' and ringin' hands, we just got together and it came together pretty naturally. I think it's a pretty upbeat, celebratory record, and it couldn't have come at a better time." Co-produced by the pair, the 11 songs include several original tracks (co-written by Keb' and others, two with Taj) as well as a few unexpected covers. Widely regaled as one of the greatest musical raconteurs of our time, Keb's signature sound is all over this record, and the addition of Taj is the icing on the cake.
The nostalgic "Don't Leave Me Here" (one of the two written by Taj and Keb') kicks things off with tasty harp from Chicago blues veteran Billy Branch complemented by a funky horn arrangement and a back-and-forth vocal between Taj and Keb'.
"She Knows How to Rock Me," an old boogie woogie song written and first recorded by Willam Lee Perryman (aka Piano Red and Dr. Feelgood) gets a fresh blues update with Taj on acoustic guitar and Keb' on resonator. Rife with double entendre, this is classic Taj in his element.
Co-written with Keb' and Chic Street Man, "All Around the World" is one of the statement songs on the record, with its upbeat tempo and message of peace. It is also one of several tracks featuring percussionists Sheila E. and Crystal Taliefero (long-time Billy Joel percussionist). In addition, a myriad of background singers lend their vocals on this one, including "Mrs. Keb' Mo'," Robbie Brooks Moore.
"Om Sweet Om" adds Lizz Wright's smoky vocals to Taj's gravel and Keb's soul, creating a nicely textured sound. It is also one of three songs featuring guitarist Joe Walsh.
The funky, groovy "Shake Me In Your Arms," written by Billy Nichols and spotlighting a Walsh guitar solo is followed by the just as funky, just as groovy "That's Who I Am," which again is bursting with Keb's writing style. He plays Wurlitzer, electric, slide and resonator guitar on this one (Taj also plays resonator), and the subtle keys work of Michael B. Hicks on this track (as well as many others) cannot be overlooked either.
The stripped-down version of Sleepy John Estes' "Diving Duck Blues" on this record gives it new life as Taj plays acoustic guitar and Keb' resonator – it is vastly different than the totally funkadelic, iconic version on Taj's 1968 debut album but just as enjoyable.
The biggest surprise of this collection is a fun version of "Squeeze Box," the Pete Townshend-penned classic from The Who, with a slew of guest musicians again including Walsh, Sheila E. and Brooks Moore. Accordion accompaniment from Jeff Taylor (lead accordion) and Phil Madeira (rhythm accordion) deserves formidable mention on this one.
The darkest track of the bunch, "Ain't Nobody Talkin'," once again shows the storyteller side of Keb' in his poignant slice-of-life portrayals of real people through song.
With a lively, Afro-Caribbean flair, "Soul" switches to a lighter tone and brings the record to the closer, a cover of John Mayer's anthemic "Waiting On The World To Change" featuring Bonnie Raitt's backing vocals. It is a brilliant reinterpretation of the original and it truly finishes off this statement record, one that Taj stresses "couldn't have come at a better time." Indeed, it's true. This is such a feel-good record bursting with light and hope that is over in the blink of an eye, prompting a swift replay. At a time when we could all use a feel-good record, this one delivers big time.
---