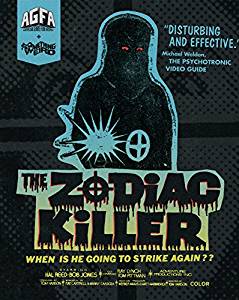 The Zodiac Killer
directed by Tom Hanson
starring Hal Reed, Bob Jones, Ray Lynch
AGFA
Tom Hanson's 1971 The Zodiac Killer was released just a few weeks after the serial killer's final letter was sent to the press.
You could argue that this represented a shocking level of tastelessness, and, well, you'd be right. But films like The Zodiac Killer accidentally achieve a sort of documentary-like realism by being first on the scene that much better movies like David Fincher's meticulously produced and designed Zodiac can not achieve.
And make no mistake, Zodiac is a better movie by miles than The Zodiac Killer, but that doesn't make The Zodiac Killer any less fascinating. The film opens and closes with a voice over by the killer, warning us that evil lurks all around us, and the characters we're introduced to throughout the movie don't do much to change that point of view. Is the killer the angry, misogynistic truck driver with the bad toupee? Is it the angry, misogynistic mailman? Perhaps the angry, misogynistic neighbor?
The killer is revealed about halfway through, although most of the main characters are portrayed as a little off, making it a whole universe of angry suspects. This suits the film's overall grimy tone, which is lightened by a few artistic touches, like a chase reflected in standing water. And yeah, lots of people (or obvious mannequins) get stabbed, shot and mutilated. Did the real Zodiac Killer kill someone with a spare tire? Or by slamming a car hood on them? Not sure, but it happens here.
The Zodiac Killer is the American Genre Film Archive's first release, and they really went all out, with commentary tracks, interviews, and a bonus film, 1977's Another Son of Sam which appears to be another "ripped from the headlines" release. The extras weren't included in the download copy available for review, but make this initial release mandatory for fans of exploitation flicks, low budget movies, or armchair detectives.
---