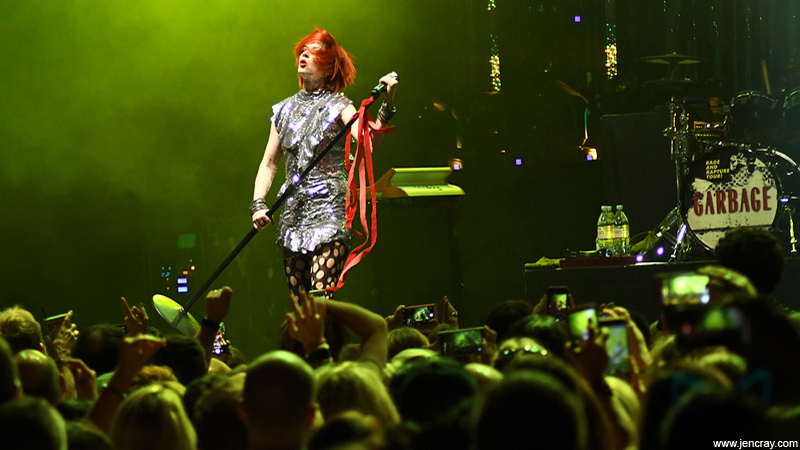 Blondie and Garbage
with Deap Vally
Hard Rock Live; Orlando, FL • August 9, 2017
by Jen Cray
It took me 20 years, but I finally "get" Garbage. I mean, sure, I was entranced by Shirley Manson's alternative supermodel sex appeal like everyone else, back when that grungily smoldering black and white video for "Queer" hit the airwaves, but the beats and the dance-bred foundation of what Garbage quickly became was a little too pop for my angsty tastes. Not so anymore. Sick beats + tormented lyrics + a charismatic chanteuse = an optimisitic pessimism that can only come from a member of Generation X. It only took me finally seeing the 90's icons in concert to understand the beauty that is Garbage.
[[garbage_aug17_5]] [[garbage_aug17_2]]
Co-headlining with Blondie (I'll gush about them in a minute) on the Rage and Rapture Tour, Garbage returned to an Orlando stage after nearly two decades and pulled off the impossible – they wowed a sold-out Hard Rock Live crowd, many of whom were there specifically for Blondie, and they did so even with holding out on their biggest hits until the tale end of their 80 minute set! The timeless majesty and effortless cool of Shirley Manson, the production magic and steady beats of drummer Butch Vig (also known as: the dude who produced every great album in your record collection!), the glory of witnessing a band who've been around since 1993 who still retain all of their original members – it was like discovering a new food that you had no idea you liked so much!
[[garbage_aug17_3]] [[garbage_aug17_1]]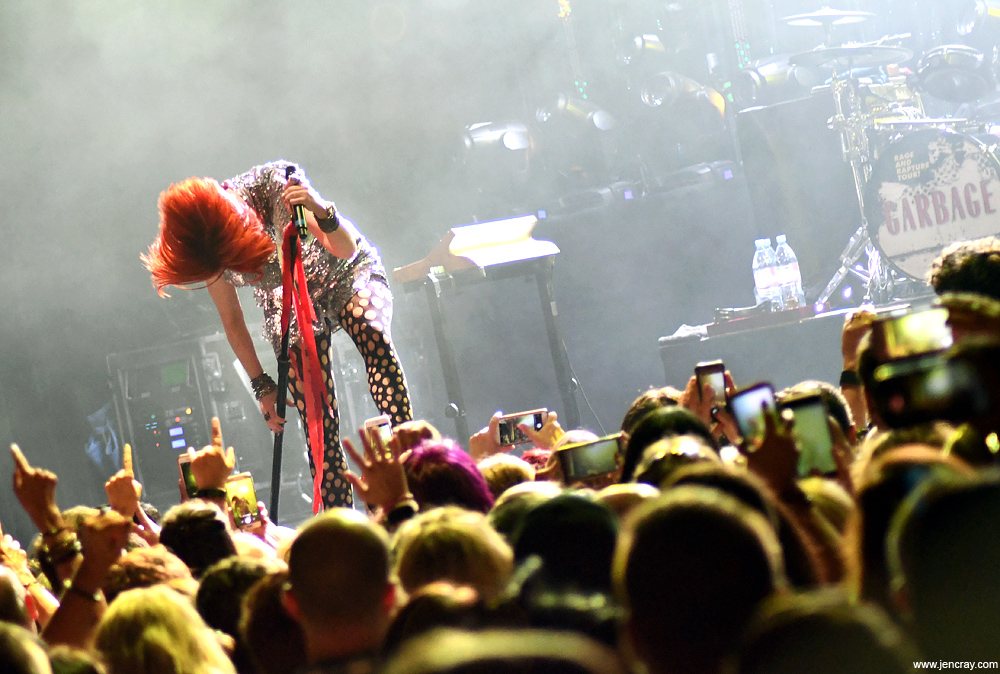 Their set was bold in its choices (surprise inclusions like their Bond movie theme "The World Is Not Enough"), and Manson's reign as queen of the night would have been impossible to challenge, had they not been billed alongside Debbie Harry. "It's not easy doing what we do when you're a woman in rock," Manson declared before sharing a bit of wisdom that was passed down to her from someone she admires, "'She who can withstand the most pain Wins.'" And then she dropped her mic' and walked off stage to a roaring applause…. ok, she didn't throw down a mic' drop, but she totally could have.
[[blondie_aug17_1]] [[blondie_aug17_5]]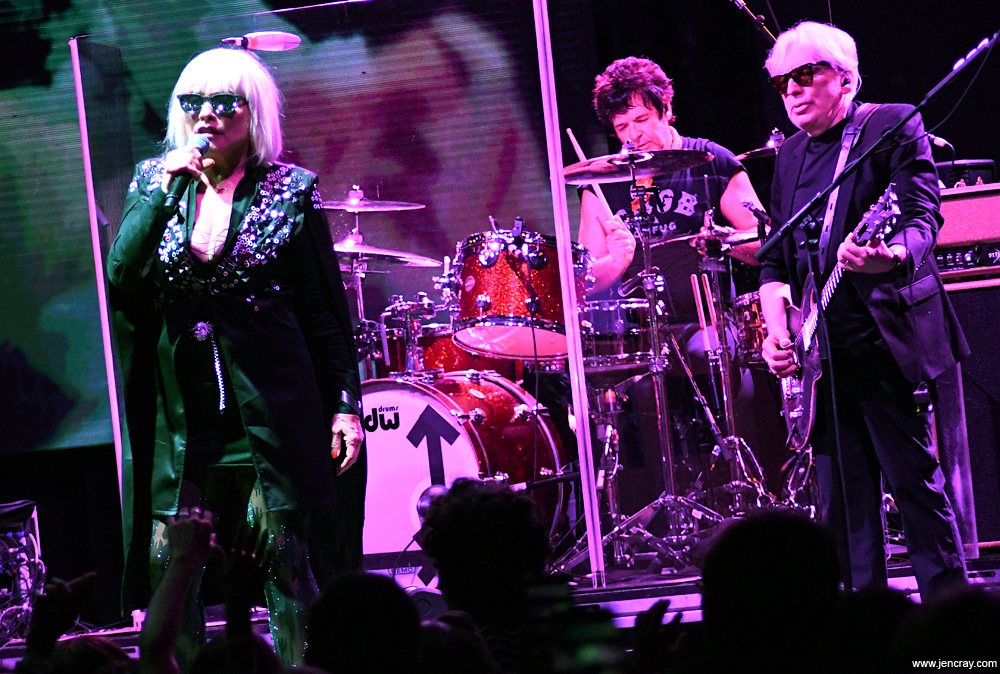 And then Blondie entered the room. Only Debbie Harry can rock a hat that looks like a bumblebee and a cape that demands "Stop Fucking The Planet" and look both graceful and timelessly cool. Like a bikini clad Helen Mirren on an exotic beach, or Lynda Carter strutting her wondrous self down a red carpet alongside our modern day Wonder Woman, Debbie Harry appears to have found the fountain of youth. I won't reveal her age, because a lady never tells, but she was of drinking age in the late 70's when Blondie was owning the CBGB stage so, ya know, do the math and then take another look at these photos. Be astounded.
[[blondie_aug17_4]] [[blondie_aug17_2]]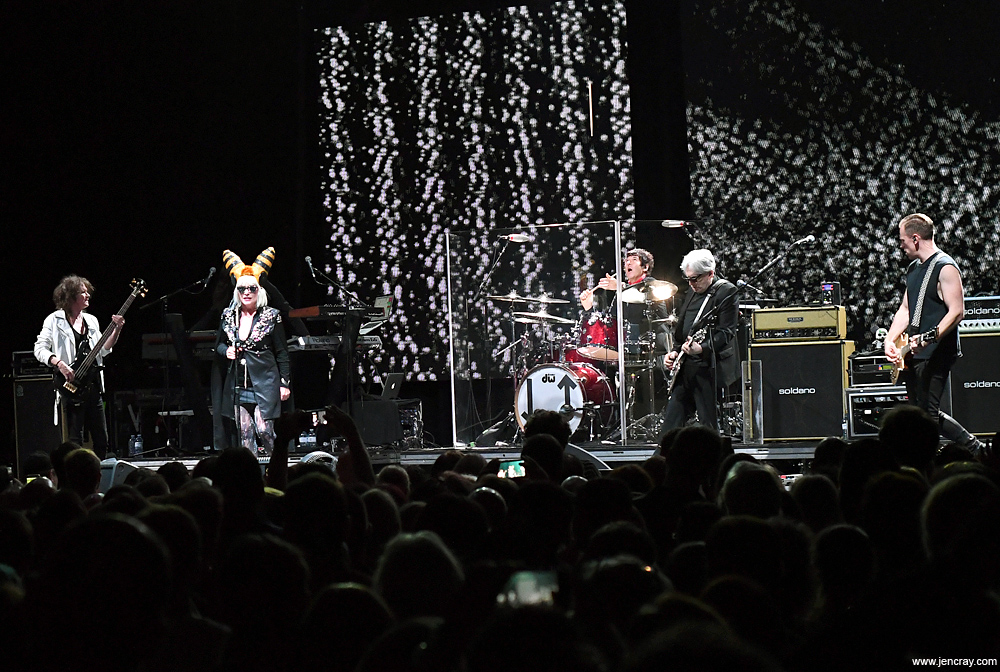 Just as astounding – how incredible that band sounded. Diving right into the hits with "One Way or Another," their set was a nonstop demonstration of the epic catalog that Blondie has made over their 40+ year career, and with most of the original band. Alongside Harry was guitarist Chris Stein and the magnificent Clem Burke on drums. The audience knew they were in the presence of icons, of punk rock Royalty, and they behaved as such, but that didn't mean the band was still putting in the sweat to really work the crowd. This was no titans of rock going through the motions for a paycheck, this was a band still runnning on the high of live performance and it was inspiring!
[[deapvally_1]] [[deapvally_3]]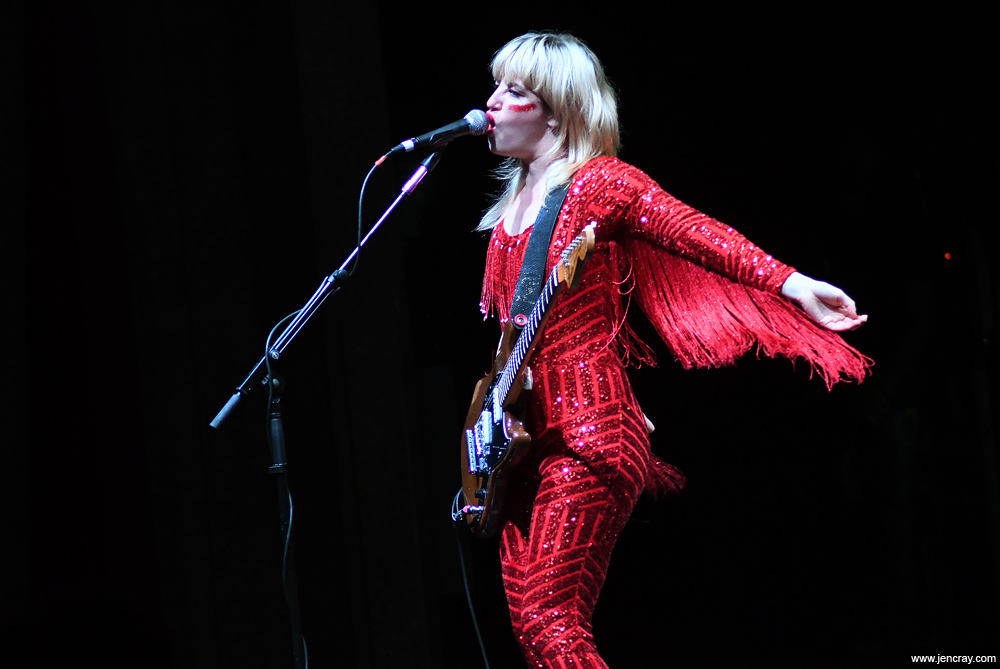 Also on the bill, Deap Vally – a female duo out of L.A. whose fat sound and heavy beats still swam warmly through my brain even after the heavy weight bands that followed. Their sound was like The White Stripes meets Yeah Yeah Yeahs, with the bold big Rock approach of a band like Kim and the Created. They may as well have been custom made for my tastes, and their set was something I was still rattling on about for days after. They were the cherry on top of an already perfect double bill of music.
Check out for photo galleries: Blondie, Garbage and Deap Vally. ◼
http://www.blondie.net ; https://www.garbage.com/; http://www.deapvally.com/
---