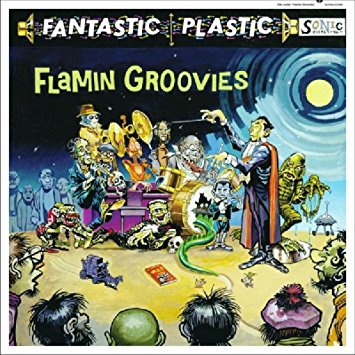 Flamin' Groovies
Fantastic Plastic
Severn Records
Although it's not the original lineup (co-founder Roy Loney ain't around), this is still choice as hell, with the combo of founder Cyril Jordan and Chris Wilson recording together for the first time in almost four decades. Wilson joined the band in 1971, ushering in the more "power pop" version of the Groovies, and his return means that one of America's greatest and most influential bands is back.
Opening with the timely "What the Hell's Goin' On", it's as if time has stood still in its Cuban heel boots. The Groovies strut and stomp like it was the late '70s at CBGBs, and the next cut, "End Of The World" has a nifty homage to their big hit from 1976, "Shake Some Action". Fantastic Plastic has all the hallmarks of their golden age, from the Byrds-like "Don't Talk To Strangers" to the garage rock frenzy of "Crazy Macy". Their cover of NRBQ's "I Want You Bad" slays, as does the strutting rocker "Just Like A Hurricane".
Now, a new Flamin' Groovies album ain't gonna change the world, but the combo of Jordon and Wilson reunited, well…anything can happen. The Groovies are back AF!
---