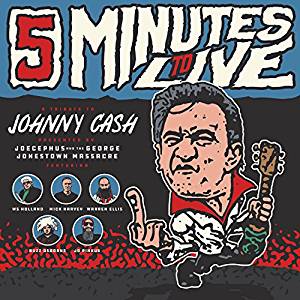 Five Minutes to Live: A Tribute to Johnny Cash
Saustex Records
Well isn't this timely! Having just toured the Johnny Cash Museum in Nashville (highly recommended) my ears have been digging the man in black, and this brief but enjoyable tribute is welcome. Considering the talent involved- JD Pinkus from Honky, Mick Harvey (Nick Cave & The Bad Seeds), Warren Ellis from The Dirty Three and the Bad Seeds and the Melvin's Buzz Osborne – you would expect some righteous punk fury but instead they play it straight for the most part, and the result is a loving look at one of America's greatest figures.
Starting off with "The Losing Kind", JD Pinkus, along with Cash drummer W.S. Holland, sings Cash's tale of woe to a loping beat, and Pinkus sounds nearly as sad and rejected as Johnny did when he recorded it way back in 1960. Next up is "Five Minutes to Live" from the soundtrack of one of Cash's early movies, with Mick Harvey taking the vocals in fine form. "The Sound of Laughter" follows, with Joecephus chillingly crooning the murder ballad, with grand fiddling from Warren Ellis. Last up is one of Cash's greatest moments, "The Long Black Veil" that has been done by everyone from The Band to The Black Crowes, and now by Melvin Buzz Osborne along with Ellis. It's a spooky song, and Osborne's echo-drenched vocals makes him sound like a man possessed – which might be not too far off the mark.
Although brief, this is a must-have for fans of Johnny Cash, and if you're not a fan…what the hell is wrong with you?
---