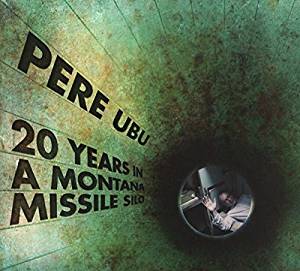 Pere Ubu
29 Years in a Montana Missile Silo
Cherry Red
Pere Ubu have been confounding audiences and other denizens of the tower of song for far more than 20 years. Vocalist David Thomas has been the only constant in the group since they bubbled up from Cleveland's underground music scene in the late '70s. The punk rock revolution gave Pere Ubu a stage to be weird, and their aesthetic can be traced back through art rock, experimental sound sculpture all the way back to Dadaism. It's amazing that any form of Pere Ubu is active after all these years. It's even more amazing that they're still producing vital, challenging music.
"Monkey Bizness" kicks off the 29 Years in a Montana Missile Silo with a punk rock rave up that's about as aggressive as anything they've ever done. The current lineup of three guitars and two synth players layer odd sounds over an insistent beat. David Thomas sounds gruffer than usual sending out warnings about monkeys and clowns and sex and terror. "Toe to Toe" channels Cold War paranoia. "Twenty years of living hell at the bottom of a missile well. Twenty years of forgotten sun staring at the portal to a kingdom come," declaims Thomas. It's a chilling look into the soul of a man ready to start the end of the world. The Ubu are talking about the past, but they might as well be singing about today's mounting nuclear tensions. It should be terrifying that there are people dumped in the bottom of a deep hole who are entrusted with ending the world.
"Plan from Frog 9" indulges Thomas's inclination to obsess on the mundane. In this case, he spends three minutes contemplating a pencil. It's got the pointy part and the pushy part. These sort of Pere Ubu songs leave listeners either delighted or bewildered. "Howl" is a similarly head scratching mutated blues. Sounds like you're overhearing one side of a conversation (or maybe David is talking to someone who isn't really there).
20 Years in A Montana Missile Silo is ultimately a solid effort from Pere Ubu. They summon the old art punk fury on numbers like "Red Eyed Blues" and "Toe to Toe". There are more of the rambling meditations like "Cold Sweat" than there were back in the day. I'm glad to see Pere Ubu are still being cranky, contrarian, absurdist.
---