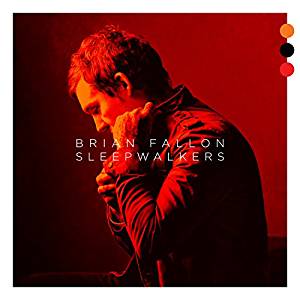 Brian Fallon
Sleepwalkers
Island Records
Just before the final chorus of Brian Fallon's first single 'Forget Me Not' from new solo record Sleepwalkers he screams 'yeaaaaaaaahhh!' loudly and longly.
It's the perfect way to lead into the ending of a brilliantly catchy, raucous tune, but it could also be the cathartic release of a man who finally feels comfortable in his solo skin after a tumultuous period with Gaslight Anthem, the band that made his name.
The band went on hiatus after the Get Hurt album, which met with disapproval from critics and some fans and Fallon regrouped to record his well-received debut solo record Painkillers, with uber producer Butch Walker.
Sleepwalkers isn't a million miles away from the alt-rock and alt-country sound of Painkillers but reuniting with original Gaslight Anthem producer Ted Hutt has seemingly reinvigorated Fallon and given his sound a real urgency and depth.
Opener "If Your Prayers Don't Get to Heaven" has an upbeat Motown vibe, which twinned with Fallon's rasping, tar-soaked voice is a winning combination. Likewise, the excellent, ska-tinged "Come Wander With Me" is a triumph while the brilliant "Neptune" twins a typically melodic verse and chorus with an instrumental section that shows the British influences that Fallon wears on his sleeve as clearly as his tattoos.
"Her Majesty's Service" is a superb example of lyrical storytelling set against another infectious melody, while the acoustic duo of "Proof of Life" and album closer "See You On the Other Side" slow down the generally frenetic pace. The latter is a touching ode to Fallon's new wife, who has also played a part in reinvigorating his creative instincts after a messy divorce.
But it's album highlight "Etta James" which really shows Fallon's talent to its max, fusing those ever present melodic licks with another slice of soulful heartland rock as he pays tribute to the legendary soul singer.
Put simply, Sleepwalkers is a triumph. Before a summer Gaslight Anthem reunion tour to perform classic debut The '59 Sound in full, it confirms that the New Jersey native can finally stand on his own as a bona fide solo artist in his own right.
---