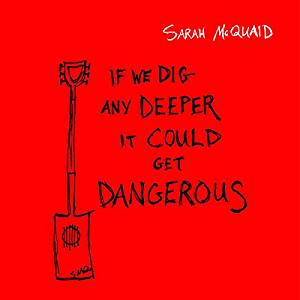 Sarah McQuaid
If We Dig Any Deeper It Could Get Dangerous
Shovel And a Spade Records
I never thought UK guitarist and songwriter Sarah McQuaid could ever top her brilliant, ethereal 2015 release Walking Into White, but thankfully, I was mistaken. Her newest, If We Dig Any Deeper It Could Get Dangerous, produced by the reigning king of British folk guitar Michael Chapman (who adds marvelous guitar touches on most songs here) expands McQuaid's palate in interesting ways, while never forgetting her innate sense of musical beauty.
McQuaid is renowned for her use of the DADGAD guitar tuning, but that is far from her only trick. The 12 cuts here range from the heavenly title cut to "The Day of Wrath, That Day" with its repeating electric guitar pattern, which sounds as if McQuaid and Chapman are guesting on a Low track. Brilliant. "Cot Valley" which follows is in the great British folk tradition as it relates the rejuvenation of an area once blighted by mining. "Break Me Down" sounds a bit like some of Chapman's releases such his latest, 50, with his trademark descending riffs forming a drone-like atmosphere while Sarah sings the ode to burials and decomposition. (Gotta love the Brits for song topics!).
If We Dig Any Deeper It Could Get Dangerous is a beautiful, engaging work that showcases two of the world's premier guitarists and songwriters. McQuaid and Chapman work off each other brilliantly, with unexpected twists and turns in each song. Now, if we could just put them on a plane and have a proper show here in the States!
Short documentary on the making of this album is out now on Youtube:
---