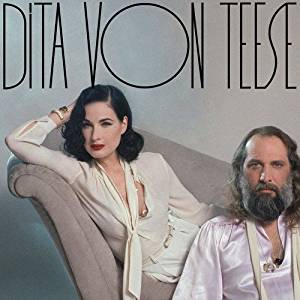 Dita Von Teese
Dita Von Teese has already revolutionized modern burlesque, made waves as a fetish performer and costume designer. A few years back, all it took was an unfounded rumor that Dita would be performing at a Fetish party for the event to sell out. That left a lot of people disappointed.
It's always a bummer when you buy into something expecting one thing and getting something else. I'm afraid there will be a lot of people who buy Dita Von Teese's first musical outing based on expectations that the former Mrs. Marilyn Manson is going to be grinding out heavy, techno-industrial fare like her ex. There are also going to be the doubters who scoff at a successful performer trying to cross over to another media. To be fair, there are a lot of awful records made by actors looking to make a bit of extra change. So, the question here is does Dita deliver or just tease?
I'm rather pleased with the direction Dita chose for this outing. To me, it sounds like an updated interpretation of the music Jane Birkin made with Serge Gainsbourg back in the 1960s. The music is sensual without being overly sexual. "La Vie Est Um Jeu" is a clear homage to Birkin/Gainsbourg with the French lyrics and the catchy whistled counter melody. "Porcelaine" is even closer with male vocals taking lead a la Gainsbourg. "Fevers and Candies" is a bit self referential with lines like "show me who I am on your video." "Dangerous Guy" is a mostly spoken word piece that I can easily imagine being used by burlesque dancer, which makes sense.
I'm also reminded a bit of another model turned musician, Nico. Sebastien Teller plays the John Cale role, crafting and tailoring music to fit and compliment his singers voice and persona. Like Cale did for Nico, Teller finds sounds to compliment Dita rather than trying to fit her into the fashions of the day. Thank god.
---