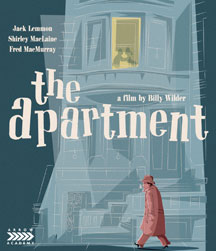 The Apartment
directed by Billy Wilder
starring Jack Lemmon, Shirley MacLaine, Fred MacMurray and Ray Walston
MVD
The Apartment stands as one of Billy Wilder's greatest comedies, although today its not all that funny. C.C. Baxter (Lemmon) works for an insurance company in New York. He lives in the west 60's and looks for love. But he's not the only one looking; his supervisors all borrow his apartment for their own trysts; often leaving him out in the cold and rain. C.C. falls for the elevator operator Fran Kubelik (MacLaine) even though she's seeing the big boss Sheldrake (MacMurray). Hijinks ensue, but rather sad ones as this is a tale of infidelity, casual sex and attempted suicide. The pressure is high, and eventually C.C. decided that happiness is more important than a career and the story resolves into a happy-ish ending.
Shocking in its time, this movie now comes across as rather tame by today's sexual standards. The minor bosses are played for laughs; Ray Walston arrives with a Monroe-esque blonde and four cocktails and proceeds to boot C.C. out into the cold. C.C.'s landlady and his neighbor can't believe the amount of sex he appears to have, and the banality and overwhelming population of New York adds an interesting backdrop to the social commentary. Widely acknowledged as the best comedy of Wilder's career and the post war era, the movie engages and the characters all feel very real. Lemmon is the perpetual nice guy even though he's made a deal with the devil, MacMurray is shady and ambivalent and not the man I recall from My Three Sons. Walston and the other mid-level execs feel predatory, and it's innocent Miss Kubelik who feels the saddest as she's kicked from man to man and treaded on worse than the prostitute she almost is.
The packaging of this classic story gets high marks. Along with the fresh Blu-ray strike, there's a stack of documentaries and interviews that do an excellent job of setting the time and space the movie debuted in. A small, neatly bound hardcover book accompanies this with more interviews and stills. I took he trouble to watch all the special features prior to the film itself; that made the cultural context much cleaner. This is a black comedy and not the sort of silly drag farce Some Like It Hot or Seven Year Itch projected, but it's a touching look at the price of selling your soul and darn nice love story for the post war pre-sexual revolution era.
---