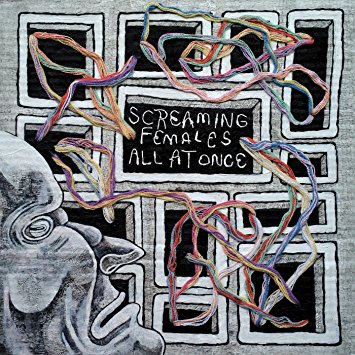 Screaming Females
All At Once
Don Giovanni Records
On All At Once, polish and subtlety rules over DIY punk while keeping it sharp and loud on the seventh album from New Jersey punk trio, Screaming Females.
Marrisa Paternoster's vocals packs a power punch that few women in rock can belt out today. The first three tracks are incredible, from the first five jarring chords on "Glass House" through the last note on "I'll Make You Sorry" before it settles down with "Dirt" before kicking back up to the head-banging "Agnes Martin." Fugazi drummer Brendan Canty sits in on "Soft Domination", one of the more pop-punk oriented songs on the album.
Like the previous album, Rose Mountain, All At Once seems to show a more polished and nuanced sound from Screaming Females. Perhaps it's thanks to the producer, Matt Bayles, who produced both albums. There is a change of rhythm and feel hard to soft in songs like "Glass House." Greater harmonies weave in songs like the driving "Black Moon" and "End of My Bloodline" The band further experiments outside the typical DIY guitar punk with keyboards on the softer "Deeply" and synth sounds that weave between tracks on "Chamber for Sleep" (parts 1 and 2). "Bird in Space" has guitar solo twinges of southern classic rock – a reminder that Patnernoster is quite the accomplished guitarist in her own right. Not so punk, but oh so good for a band that seems to be looking to expand their creativity while keeping the roots of what makes them so Jersey strong – Mike Abbate's deep and driving bass, Jarrett Dougherty's thundering drum beats, and Marissa Paternoster's commanding and defiant melodic voice.
---