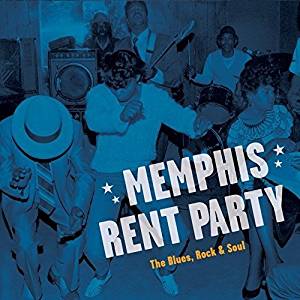 Memphis Rent Party
Fat Possum Records
I dearly loved reading Robert Gordon's sixth book, Memphis Rent Party, only pausing to look up yet another new discovery online to sample later. Thankfully for the rest of you, Fat Possum has released a soundtrack, and it's nearly as good as the book. Gordon has been Memphis' greatest champion for years now, from books such as It Came From Memphis to the utterly disturbing film Very Extremely Dangerous, on the life and hard times of the late Memphis rascal, Jerry Mcgill, who's surprisingly touching rendition of Guy Clark's "Desperadoes Waiting for a Train" opens this 12 cut collection.
While Nashville has always garnered the limelight with its mega-popular pop sheen cast to its music, Memphis is where you go for the dirty blues and gut-bucket rock n' roll that you need at 2am. Take Luther Dickinson of the North Mississippi All Stars (and son of the patron saint of Memphis rock and roll, Jim Dickinson) with Sharde Thomas, granddaughter of blues legend Otha Turner on "Chevrolet", which pairs Dickinson's slide guitar with the vocals of Turner, and it's just as low-down and nasty as you can imagine. Well, until you hear the next cut, Junior Kimbrough's "All Night Long", recorded in somebodies living room, or "Little Bluebird" from The Fieldstones, and you realize that Memphis literally runs on this stuff.
The great Jerry Lee Lewis still calls Memphis home, and his previously unreleased "Harbor Lights" slays, as does the piano stylings of Mose Vinson on "Same Thing on My Mind". But it wasn't all the blues, as Charlie Feathers lets loose some rockabilly on "Defrost Your Heart" and the great songwriter, producer (Big Star's Third, The Replacements Pleased to Meet Me and piano player (the Stone's "Wild Horses") Jim Dickinson with his "I'd Love To Be a Hippie". Alex Chilton reigns large in Memphis Rent Party, and his live attempt at the reggae chestnut "Johnny Too Bad" might not be definitive, but shows that pretty much anything Chilton tried, he mastered.
So, do yourself a favor and pick up Robert Gordon's Memphis Rent Party, a completely engrossing look at one of America's most cherished musical cities, and when you do, get this CD…it will save you a lot of time searching online!
---