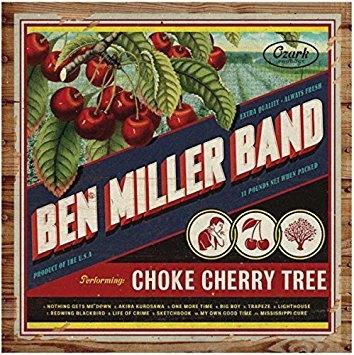 The Ben Miller Band
Choke Cherry Tree
New West
Don't judge a book by its cover. In this case, don't jump to a conclusion about a band based on the photo on the back of the CD. Two of the guys in the Ben Miller Band are kind of grizzled, bearded gents who look like they could be on Duck Dynasty. Well, that red top hat is way cooler than anything the Duck people ever wore. And what's this; A song about Akira Kurosawa? There's something interesting going on here.
The Ben Miller Band play a feisty brand of roots music on pawnshop guitars and home-made instruments. That song about Akira Kurosawa is a blues stomp (with disco strings for coloring) juxtaposing personal angst with Plato, Shakespeare and the works of the Japanese filmmaker. That's kind of the way Ben Miller works, the songs are grounded in personal, often self-depreciating stories that spin out in profound and unexpected ways. "Nothing Gets Me Down", for example, finds the singer falling into the bathtub while inebriated and ending up in a position most people wouldn't share with their best friend, let alone memorialize in song.
"Trapeze" is a Cajun flavored tune that features Rachel Ammons' harmony vocals. It's a song about an aerialist who knows that at least some of the audience are hoping that he'll fall. It's a cool song, that got a little too real here in Tampa when a cast member of Cirque du Soliel fell to their death on March 17th.
Miller and company have fun on down and dirty tunes like "Life of Crime" and "Big Boy". These are tunes that are sure to get folks up and moving in a live setting. At times, Miller gets almost metaphysical. "Sketchbook" unspools as a stream of consciousness confession turned meditation on what makes u human and the nature of reality. On "Mississippi Cure", Miller takes a skeptical look at Southern culture. American flags with swastikas and preachers praying for a cure populate the song. Miller ends the album singing, "Waiting on your miracle, sometimes we wait too long. Waiting on your miracle… a cures come and gone."
So yes, these aren't a bunch of backwoods Duck people. It's a collective of multi-instrumentalist capable of running the table with roots music style while singing tunes that make you smile, and maybe think a bit too.
---