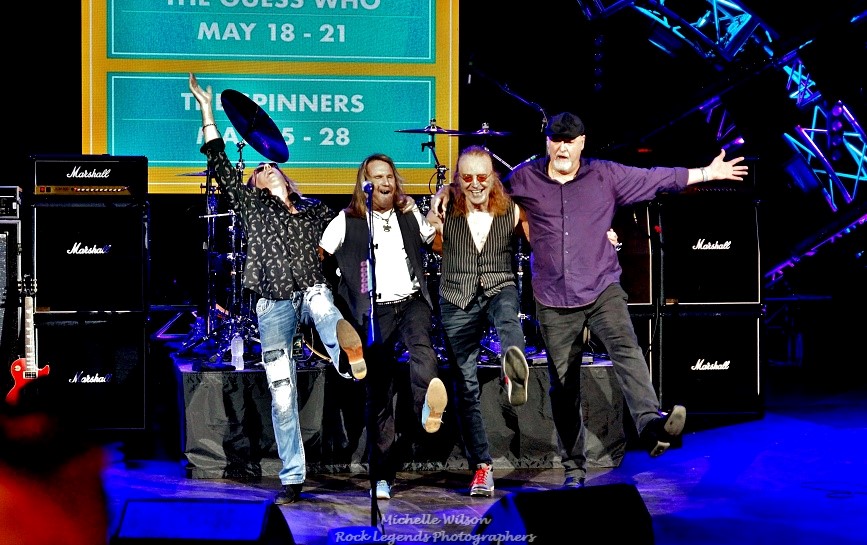 Foghat
Disney/Epcot; Orlando, FL • April 7, 2018
by Michelle Wilson
It's always risky planning an outdoor concert in Florida, but those who live here are fully aware of this vital fact. Armed with a rain poncho and racing to beat Mother Nature's unforgiving wrath, I hurried toward the stage WAY on the other side of Disney Epcot for the Garden Rocks Concert Series at the 2018 Epcot International Flower and Garden Festival, featuring '70s rock icons, Foghat.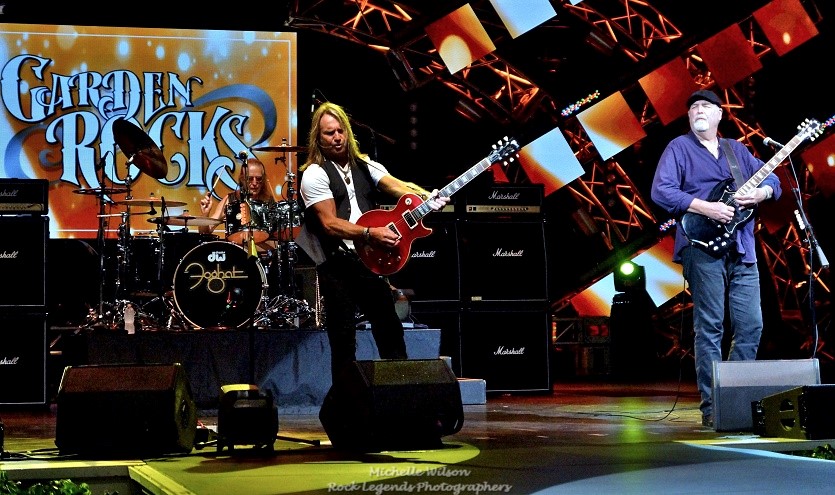 Moments after breathlessly arriving at my destination, the heavens opened and everyone ran for cover as the lightning and thunder became the featured entertainment. I was attending the last of three sets, and it was questionable whether or not the show would go on as planned. But miraculously the storm subsided, the diligent Disney crew got busy and the event went on as scheduled, albeit abbreviated.
[[Foghat1]] [[Foghat2]]
The current Foghat lineup features founding member/drummer, Roger Earl, whose zeal for live performance is as evident as ever. Watching him play with as much enthusiasm and enjoyment after all these years just brings a smile to every face in the crowd. Backed by guitarist Bryan Bassett (think "Play That Funky Music"/Wild Cherry), guitarist/vocalist Charlie Huhn (Ted Nugent, Humble Pie) and bassist Rodney O'Quinn (Pat Travers), the boys in the band finally blasted onto the stage around 8:10pm and offered a three-song smokin' set in lieu of the original five songs planned, including "Road Fever," "Honey Hush" and of course their signature showpiece, "Slow Ride." Huhn has never sounded better and still has moves that would rival someone half his age, while Bassett unassumingly continues to execute jaw-dropping guitar licks that come off as smooth as butter. With an incredible light show, numerous searing solos and countless Rodney O'Quinn hair flips, the 30 minutes of '70s cuts came to an end in the blink of an eye. Earl threw drumsticks out to several lucky fans after the band's final bow, and even though it was a short show, it certainly was spectacular!
Full gallery of photos: https://rocklegendsphotographers.smugmug.com/ROCK-CONCERT-PHOTOS/FOGHAT-Disney-Epcot-Orlando-FL-4-7-18/
https://disneyworld.disney.go.com/entertainment/epcot/flower-garden-rocks-concert-series/
◼
---