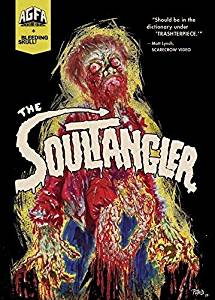 The Soultangler
directed by Pat Bishow
starring Pierre DeVaux, Jaime Kinser
AGFA
After restoring and reintroducing classics like The Violent Years, The Sword and the Claw, and The Zodiac Killer, one might think that the American Genre Film Archive had run out of unknown or unseen movies to release. I mean, how do you follow up a restored version of Batpussy?
Thankfully the intrepid researchers at AGFA have entered the world of Shot On Video filmmaking with their newest release, The Soultangler an '80s Long Island DIY film complete with all the gore, strange pacing, and dreamlike plot that typifies the best of the genre.
The Soultangler deals with disgraced Dr. Lupesky's (Pierre DeVaux) experiments with Anphorium, a hallucinogenic drug that enables users to inhabit the souls of other bodies. Unfortunately the bodies have to be recently deceased for the soul transference, so the doctor enlists a duo to provide him with fresh bodies. Reporter Kim Castle (Jaime Kinser) is investigating the rash of disappearances, but can she crack the case in time?
While Director Pat Bishow sounds apologetic at times on the commentary track, he makes the best of a limited budget, and his score (typically a weak point with SOV releases) and gore effects are much better than similar efforts. The pacing can be a bit uneven, and the actors might not be the best, but the gonzo spirit especially in the over the top climax more than make up for these small details.
As with all AGFA releases, this is the best The Soultangler has probably ever looked, and the extras, including a director's cut, and trailers add to the overall experience. Recommended for '80s horror fans who think they've seen everything the decade has to offer, The Soultangler is a DIY filmmaking effort with admirable scares and gore, and another solid release from AGFA.
---