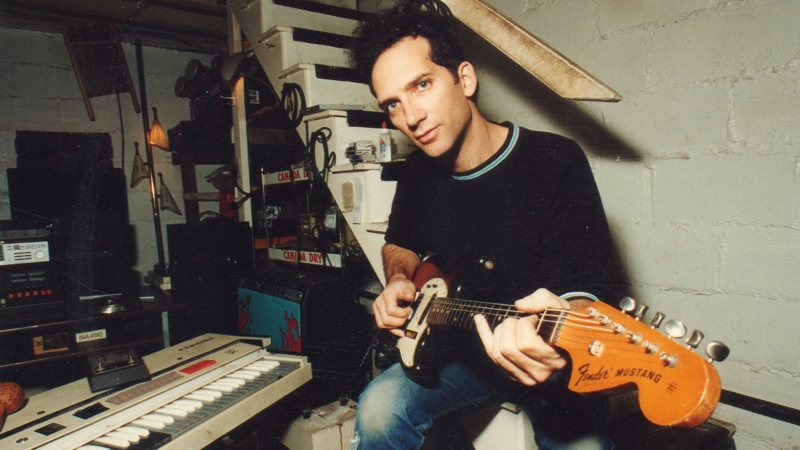 Ben Vaughn
by Ian Koss
You may not have heard Ben Vaughn's name, but it's highly likely you've heard his music or influence. Besides being an accomplished musician and songwriter, with a staggering discography of creative material, he has also served as a producer (including Ween's 12 Golden Country Greats, and albums with Los Straitjackets and Arthur Alexander, among others) and session musician. There is also an entire career in TV music, scoring brief sonic masterpieces for the likes of 3rd Rock from the Sun, That '70s Show, that has come and gone, searing its sounds into the subconscious of anyone who watched TV between 1995-2005. These days, you can be seduced by the decade-spanning sounds of his syndicated radio show (also available in podcast form), The Many Moods of Ben Vaughn, produced from his Relay Shack home/studio, on the edge of the Mojave desert in California. We got a chance to talk to Ben on a Tuesday morning in February, shortly after the vinyl release of his monumental Instrumental Stylings album, available from Bar/None Records.
• •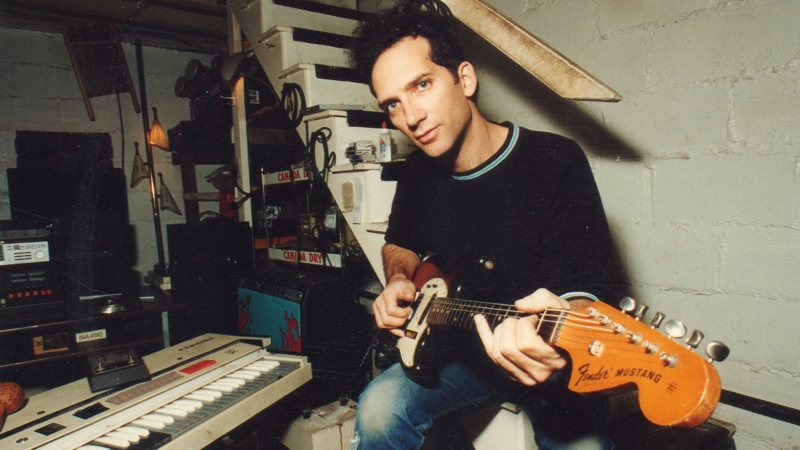 Good morning! Am I calling the desert?
I'm in the middle of Mardi Gras. It's totally insane. Two parades are going by my window right now, I just came up from the street and it is mayhem out there.
I had no idea… is this a tradition for you?
Actually, this is only the second year I've gone. I'm going to try and do it every year for the rest of my life now.
Sounds a world apart from the Relay Shack.
I'm about as far as you can get before electricity ends for 80 miles, outside 29 Palms. I bought a house out there about 20 years ago, when I was doing TV music. I was really in the trenches in Hollywood, and everyone around me was having nervous breakdowns. I thought it might be contagious, so I had to have a weekend place I could go to. I bought what was a shack at the time, out in the middle of nowhere, and built onto it a little bit. I split my time between the Mojave and an apartment in Santa Monica, but I spend most of it in the desert.
The fringes of the desert are an interesting place. There are people who are trying not to be found trying to squeeze a living out of the thinnest of margins.
It's a magical place. You're either going to react favorably to it or not, there's no in between. I've had people come out to my place and the quiet freaks them out. They can't handle how quiet it is.
It's surprising to think that 2018 is when Instrumental Stylings gets its vinyl release.
In 1994, when it first came out, vinyl was considered completely dead, there wasn't even a boutique industry or anything. It was gone. It wasn't an option if you were putting out a record at the time.
Did you want it to be on vinyl at that time?
I've always wanted everything to be on vinyl. I never embraced CDs, never really warmed up to the idea. When I started my career my albums would only come out on vinyl or cassette, so my background is side A, side B. My original training in the business was to create an album that has two sides, and that completely fell apart when CDs came out.
In 1994, if you thought about the reissue of an album in the 21st century, it would have been in terms of a new remastered diamond cube, or some other high-tech format that is not vinyl.
It sounds great. When they sent me the test pressing, it was the first time I'd ever heard it on vinyl. I was really happy when I heard it.
Were you involved in remastering?
Just in approving the master. I made a few notes and they made a second pass, but boy, it was great, great to be working again, to be actually listening to a reference disc on a turntable. It was beautiful.
Are there any plans for releasing other material of yours on vinyl?
I have a new solo acoustic record that I'm getting ready to play out. Labels in France and Spain always put my stuff out on vinyl no matter what I do, because I have consistent fan base over there. They never stopped with vinyl in Spain, it's crazy. As far as Bar/None goes, this is the only thing we've talked about. I have another record with them that maybe we'll do next, but I don't know. Instrumental Stylings is the only project we've actually talked about going through with.
Any plans to do release your TV and film music?
It's a question that's come up a few times. I don't own it, because when you do work for hire, the production company owns the masters and the publishing as well. I'm not even sure where that stuff ends up. I did most of my TV shows for a company called Carsey Werner, 3rd Rock, '70s Show, pilots and everything. I'm assuming somewhere there is a digital library of all the music that all the composers that worked for them did, but the company went out of business about ten years ago, and you never know where anything ends up when that happens.
Do you think you'll ever go back into making that type of music?
Not really. I played it out. I did it for eleven years, and I didn't feel like I was learning anything anymore. The Instrumental Stylings record is a good example of where I was when that started. I was in the record business, and I had a record deal, and I would record an album of twelve songs and go out on tour for a year and half and then deliver another collection of twelve songs.
That went on for four albums, but I wanted to be writing every day. I wanted a reason to write music every day, because that's what really feels the most natural to me, but the record business doesn't give you that opportunity. So I decided to go to LA to see if I could do some film music. Pulp Fiction had just come out, and everybody was looking for surf guitar at that moment, and it's one of the things that I do.
I immediately got work as a session guy on a bunch of films, then 3rd Rock came along. It was great because I knew I was an artist, but I wasn't sure if I was a craftsman, if I could really work with deadlines and crank it out. In the record business, deadlines can be moved, they're very lenient with the artists in the record business. But not TV. If you're the composer, your stuff is going to be on the air Tuesday night at 8:30, whether you've finished it or not. There's no second guessing, that's a luxury. Your first idea has to be your only idea, because they're going to pull it out of your hands and put it on the air.
And also, when it's done, that's it. It's done. You move on to the next one.
Whether you like it or not, it's done. You have to really know what's going to be good, and know really fast, and have your angle on what this piece of music needs to be, and you have to work quickly. It's a very sobering job for an artist. I was curious if I could work under pressure and write every day. It cured me of any neurosis I might have about having a writer's block. You can't afford to have one. You can't freeze, you have to keep moving.
Doing that for 10-11 years, near the end, it didn't feel like a challenge to me anymore. I'd proven to myself I could do it. And I'd also proved that I could exist in that field without getting fired for being too weird. I stayed the course, but it started to become repetitive and that was when I realized it was time to step away.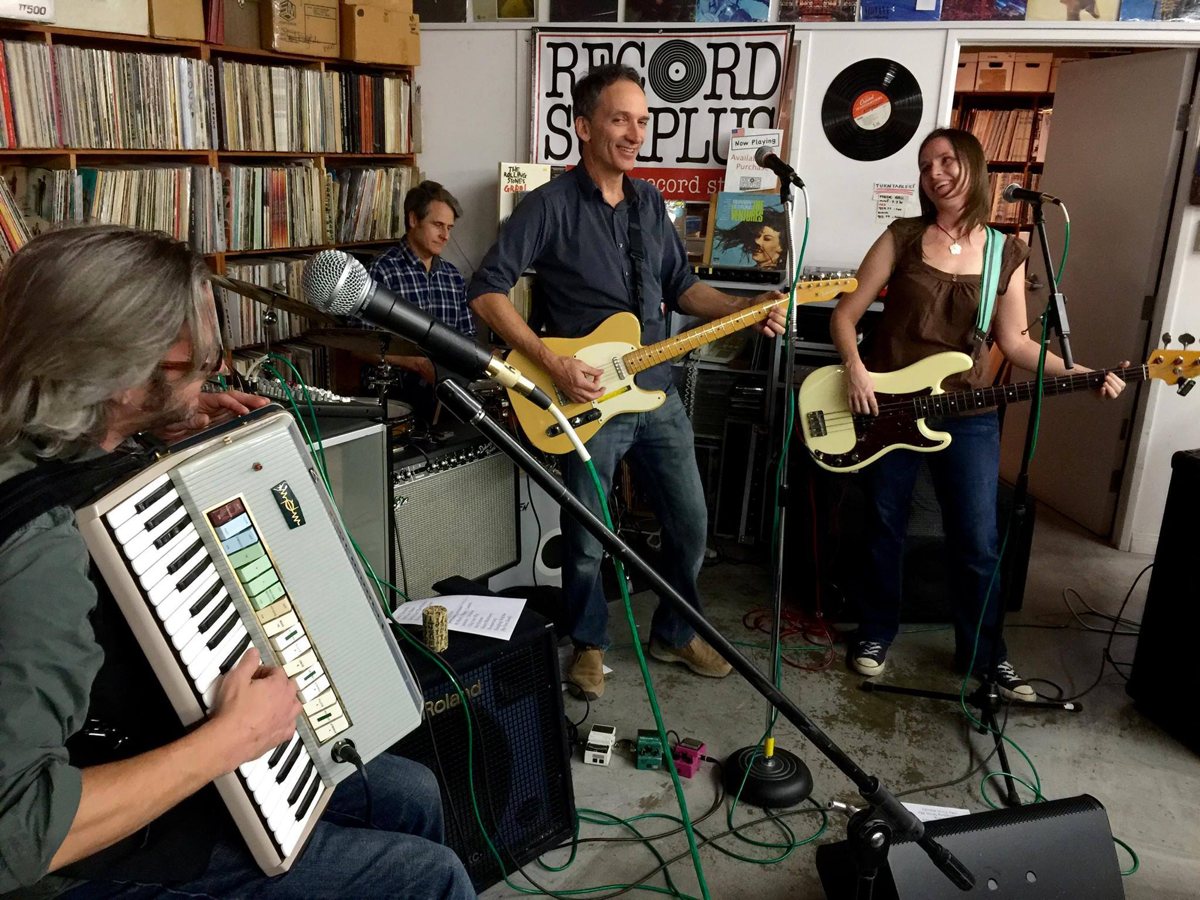 These days, you have a radio show slash podcast.
It's a real manic thing for me, because I grew up in the Philadelphia area obsessed with radio. Philadelphia radio is unique. It's like nothing has changed. Doo-wop never died in Philly. It's such a great city to listen to the radio. When I was growing up, I wasn't sure if I was going to be a musician or work on the radio, because they both seemed equally great to me.
So when I retired from TV music, I came back to this. I didn't want to go on Sirius XM and do anything official or legitimate. I wanted to start station by station, and build a relationship. I started with WEVO in Memphis, I was on the air there for about a year. I wasn't that great yet. The records I was playing were great, but my presentation left a little somethingg to be desired. Once the show started to really sound like I wanted it to sound, then I started pitching it to other stations. Now it's syndicated to 23 stations, and it's really cool because I have relationships with every program director at every station.
Do you hear from fans?
All the time. I get a lot of emails through the website, and Facebook. It seems like the kind of records I'm playing, and the way I group them together, there isn't much of that going on because of the enthusiasm of the people I hear from. To me it's a no-brainer, this is the way a radio show should sound and I don't really give it much thought. But it seems to be an unusual show that I'm doing.
But you're just basically playing music from your personal library.
Yup. I love country music, and I love punk, and I love easy listening and bossa nova, and jazz and blues and folk… when I was in high school it was kinda rough for me because you had to take sides, about whether you liked disco, or progressive rock, or punk, or the Grateful Dead. I was listening to Waylon Jennings and Lou Reed. I just kept my mouth shut, because my friends were intent on forming social groups based on what kind of music you liked, and I was always the odd man out.
My radio show reflects how I listen to music at home. I love pretty much everything. There's no genre… [pause] smooth jazz I'm a little cool on, I will admit. Not a huge smooth jazz fan.
It has its place.
It has its place. But then again, so does dentistry.
Sometimes you need a dentist*. You're really enjoying the radio part.
I'm loving it. I have a really big record collection, and now that MP3s are available, you can find all sorts of crazy stuff without having to track down the actual album, which could take you years. I love it because my relationship with my record collection is intimate again. When I was doing TV music and I was working around the clock, my collection was there, but I wasn't laying on the floor in the living room, pulling out albums and exploring. The radio show is a great excuse to have to do it. I have to do it now.
Do you have a weekly ritual to get ready for your radio show?
I always pick three songs that are worth talking about. Something historical, or something about the recording, or the artist or style. Then I just start listening, and because I've painstakingly figured out the best sequence for a lot of albums, I have a feeling for how many uptempo tunes need to happen before a ballad, when something with a minor key should come after something in a major key. Drum breaks… every reggae song and every ska song starts with a drum break – boom, b-r-rah-pah – and then whatever the song is going to be, it's there. Those things I take into consideration when I'm putting the playlist together, so it works as one piece of music, like a suite.
I listen as a musician, and as a lyricist too, and I'm always aware when there is a theme of some sort. I don't try to overdo it, because the death of good radio is when you become too clever for your own good, and something that looks great on paper because it's thematic may sound horrible on the radio.
When a song is fading out in the headphones, I'm always incredibly happy that I'm doing this right now. Sometimes I have to drag myself to record the show, but once I start I'm in, 100%. I feel like I'm the luckiest guy in the world, turning people on to music, and nurturing myself at the same time by listening to these songs.
It sounds like this career you have going in broadcasting is fairly sustainable, too.
Yeah, it is. I'm still writing songs, and I still tour over in France and Spain. I'm going over to France in a couple months. The life that I have now, I don't have to hustle, but I love to work and I love stay busy, and creative, and curious about music. It's working out really well.
And here I am at Mardi Gras, watching marching bands go by. "Rock And Roll" by Gary Glitter is incredibly popular down here with these bands. Of all the great New Orleans music, "Li'l Liza Jane" and all those second line numbers…
• •
You can listen to The Many Moods of Ben Vaughn on the radio in selected cities (check out www.benvaughn.com) or by subscribing to the podcast (available on most major platforms). Imitation Wood Grain and Other Folk Songs, Ben Vaughn's new solo album, has become available on CD Baby since this interview took place.
* Said the person that had a crown put in the day before. ◼
Bar/None Records: http://www.bar-none.com/
---