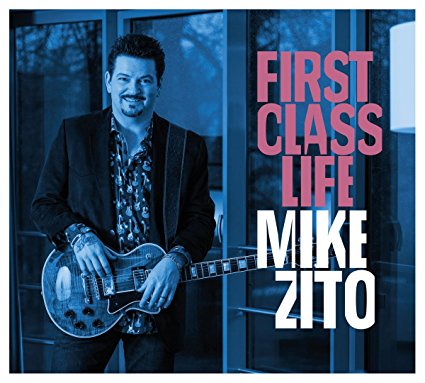 Mike Zito
First Class Life
"To sing the blues, you've got to live the dues, and carry on." Stephen Stills' timeless lyrics from Crosby, Stills, Nash & Young's "Carry On" easily could have been written about Mike Zito, the 2018 Blues Foundation award winner for best Blues Rock Artist. After struggling with addiction during his early musical journey, a battle that nearly halted his budding career, the St. Louis native and father of five overcame his demons to become one of the most consistently successful blues rockers on today's contemporary blues scene. Back with his latest album, First Class Life, Zito has never sounded better, and he sounded pretty darn good before. Tightly self-produced and recorded in one day at Marz Studios (Zito's new home studio), nine of the eleven tracks were written or co-written by Zito, with two additional covers. Backed by Lewis Stephens on keys (Freddie King, Delbert McClinton, Vassar Clements), Terry Dry on bass and Matthew Johnson on drums (also his touring band), the songs seamlessly flow in a perfect blues cadence. There is a healthy mixture of lighter and darker song subjects, each precisely juxtaposed to the next.
The album immediately kicks off with the high-energy, slide-infused rocker, "Mississippi Nights," followed by the title cut, "First Class Life," an instant earworm. Rife with social commentary on tracks such as the blues-drenched "The World We Live In," "Old Black Graveyard" and "Time For A Change," Zito then lightens the mood on "Mama Don't Like No Wah Wah." The song was co-written with fellow Ruf Records artist, Bernard Allison ( son of Luther Allison and featured guitarist on this one) and inspired by the late, great Koko Taylor and her objection to Allison's use of guitar effects when he joined her band. The funkadelic "Back Problems" and the blues-infused "Damn Shame" really showcase Zito's blues side, while "Dying Day" professes his eternal love for his wife, Laura. Paying homage to Bobby "Blue" Bland, Zito deftly covers "I Wouldn't Treat A Dog (The Way You Treated Me)" (Steve Barri / Michael Omartian / Michael Price / Dan Walsh), remaining pretty true Bland's version, and he rounds out the record with a rockin' version of "Trying To Make A Living" (T. Daniel/N. Eatman/L. LaCour), a song famously recorded by Koko Taylor and Bobby Saxton.
Zito plays with an infectious joy and intensity and pours his very heart and soul into this record. It is his best effort to date, and the songs become instant favorites. Get out to a show and see him live if he comes through your town – you will be happy that you did.
---