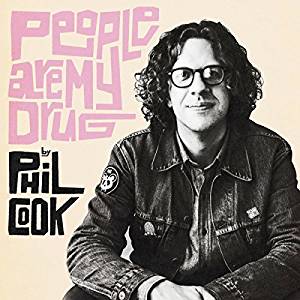 Phil Cook
People Are My Drug
Psychic Hotline
There's more than a hint of "Pops" Staples presence on People Are My Drug, the new album by North Carolinian Phil Cook. Cook, formerly of Megafaun and currently in Hiss Golden Messenger has given us a balm for our troubled souls, much as the Staple Singers did on records such as Freedom Highway or their 1963 rootsy classic, This Land. And like Pops, Cook takes us to church on moments such his version of Randy Newman's "He Gives Us All His Love".
The record starts with a weary Cook on "Steampowered Blues", which is a funky, The Band-sounding call to arms. Cook is joined throughout the record by Amelia Meath (one half of Sylvan Esso), who co-wrote the smoldering "Miles Away" and lends her gorgeous harmonies to most cuts. People Are My Drug is a topical piece of work, one that looks around at the tumult and tension surrounding us and strives to find the common ground that unites us all, such as on "Another Mother's Son", co-written by North Carolina hip hop artist Kane Smego, a cry for calm as yet another body lays in the street.
Cook takes a song from MC Taylor (Hiss Golden Messenger) with "Tupelo Child", a quiet confirmation that rides on James Anthony Wallace's subtle organ touches (ala the Staples) and Cook's washes of understated guitar. The record ends with a tribute to the New Orleans genius pianist, James Booker with "Life", that great Allen Toussaint number that concludes this remarkable album with ecstatic glory and joy. A single record might not solve all our problems right now, but Phil Cook's People Are My Drug will go a long way to helping us strip away our cynicism and hatred and look around at the wonder we all have, and cherish it. Easily one of the best of 2018, and boy do we need it now.
---