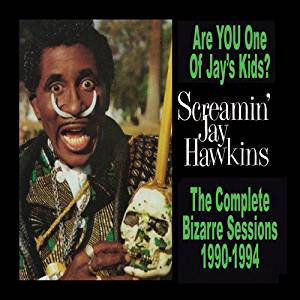 Screamin' Jay Hawkins
Are You One Of Jay's Kids?: The Complete Bizarre Sessions 1991-1994
Manifesto Records
Before Marilynn Manson… before the Misfits… before Alice Cooper… there was Screamin' Jay Hawkins!
Screamin' Jay Hawkins was the original shock rocker. He wore a (fake) bone through his nose. He started his shows rising from a casket. He talked to a skull on a stick and sang songs about putting spells on you and constipation. The man was trained as an opera singer but switched to blues when that didn't work out. He only really had one hit, but he was a staple on the early Allan Freed rock and roll package tours.
Hawkins career was revived in the 1980's when he was featured in films by Jim Jarmusch ("I Put A Spell on You" was a recurring theme in the movie Stranger Than Paradise and Hawkins played the night manager of a fleabag hotel in Mystery Train). He toured with garage revivalists, the Fuzztones. The music on this compilation comes from his late career recordings for the Bizarre label. The songs originally appeared on Black Music for White People, Stone Crazy and Somethin' Funny Goin' On. This isn't Screamin' Jay at his best, but the man was a consummate showman. To a certain extent, these were paycheck gigs for Jay but he still made fun records. The best thing, of course, is Jay's amazing voice. His full-throated howl puts the shivers down your spine. The version of "I Put a Spell on You" that appears here is a "dance version" complete with rap interludes. It doesn't have the power of the original, but you know, it's ok. He can make nonsense songs like "Ignant and Shit", "Swamp Gas" and "Shut Your Mouth When You Sneeze" feel dramatic. He does fun versions of Tom Waits tunes, "Heart Attack and Vine", "Ice Cream Man" and "Whistling Past the Graveyard". "Ol' Man River" shows Paul Robson's influence on Jay. A few of the pieces like "Sherilyn Fenn" and the Amy Fisher pieces are kind of dated.
After Screamin' Jay Hawkins death on February 12th, 2000, a web site went up called Are You One of Jay's Kids? Jay was a ladies man and near the end of his life, he told his biographer that he had at least 50 children and he wished he could get them all together so he could meet them and they could meet each other. There is a documentary called 57 Screamin' Kids (https://youtu.be/bDft6GShUwk) about the search. It's worth a look. So are some of the classic performance videos of Screamin' Jay.
---