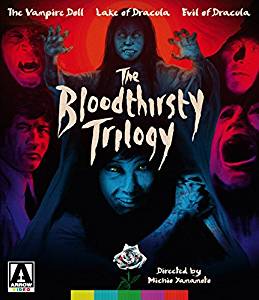 The Bloodthirsty Trilogy
directed by Michio Yamamoto.
starring Shin Kishida, Mika Katsuragi, Midori Fujita
Arrow Video
The Bloodthirsty Trilogy collects three early 1970s Japanese takes on western vampire movies. The movies are inspired by Hammer's Dracula and vampire films and the Roger Corman AIP Edgar Allan Poe gothic horrors. All three were directed by Michio Yamamoto. between 1970-1974 for Toho Studios, who are best known for Godzilla movies but are actually a major studio producing all genres of film. The movies over the years had limited showings are are mostly known in horror film lore as the somewhat infamous "Japanese Dracula" movies, now we can all see them for ourselves. This box set from Arrow Video is the first proper home video release in the States for these mostly forgotten curiosities.
The Vampire Doll is technically a vampire film but feels more like a Roger Corman Poe cycle film. Despite some contemporary trappings the cars in the film could easily be replaced with horse and carriages which owes a bit tot the oddness of the Universal horror that always seemed to take place in some mid-19th century central Europe that also had electric lights and telephones. The plot involves a young woman looking for her missing brother at the home of his mysterious girlfriend. The whole affair is a bit muddled plot wise and is certainly style of substance. A confusing and disappointing twist ending doesn't help matters and breaks the dark fairy tale that had been built up. The vampire girl Yuko is played more as a traditional Japanese ghost and her appearances are the best moments in the movie. _The Vampire Dol_l is spooky if not entirely effective or memorable.
Lake of Dracula hits many of the classic Hammer beats including the kindly doctor trying to unravel the riddle of a vampire's victim, beautiful women in peril, vampire girls in nightgowns, and Dracula along with a brutish henchman to do most of the grunt work. Director Michio Yamamoto elevates the film with some surreal touches prevalent in other Japanese horror of the period. There are a number of striking images throughout. The heroine, Akiko, (Midori Fujita) is more than just a pretty face and a body to bite and actually manages to have a bit of agency which makes her a slightly more compelling character than many of the women in Hammer films. Caring about her a character helps ground the film and provide some actual frights. Akiko is haunted by an experience as a child that as an adult she is uncertain if it is a dream or a memory where she followed her dog through the woods to an old castle where she encounters Dracula and his bride only to be rescued by a strange old man. Meanwhile lovely young women begin turning up with small punctures in their necks and it is up to Akiko and her doctor boyfriend Saki to stop the evil. Most of the action take place around a lake house Dracula skulks around with glowing eyes and a long white scarf augmenting Christopher Lee's red satin lined cape. The climax returns Akiko to the castle to face the vampire who gets dispatched in manner right out of Hammer's Dracula Has Risen from the Grave. Lake of Dracula is easily the best looking and most effective of these films and the one most likely to be revisited in the future.
With the final film in this loose trilogy, Evil of Dracula ramps up the sex appeal of these films by shifting the setting to a private girls' college where Professor Shiraki arrives shortly after the untimely death of the Principal's wife and disappearance of one of the students. Strange things are afoot and it is up to Shiraki to protect his students from the ancient evil of vampirism. Evil of Dracula takes plenty of cues from the Hammer Karnstein Trilogy (The Vampire Lovers, Lust for a Vampire, and Twins of Evil) with lots of nubile young women in flowing nightgowns and lots of breast biting. One novel element is a flashback sequence detailing how the ancient western vampire came to be in Japan. The added nudity and gore didn't cover up the decline in production values and didn't save this series, much the same as blood and breasts couldn't save Hammer once the decline set in. Sadly this is the weakest film in the series both plot wise and in production values missing most of the visual flourishes that helped elevate the previous entries.
The Bloodthirsty Trilogy is an odd experiment in mixing western and Japanese styles that comes off more as pastiche than actually becoming something transformational. Even if these aren't the best vampire or J-Horror films ever they certainly have their fans and will surely pick up new fans after finally being made available. The Arrow Video box set does a great job presenting these films with gorgeous transfers, Japanese and English soundtracks (the English dubbing is pretty good overall), and a delightful discussion of the trilogy's place in film history with British horror guru Kim Newman.
---