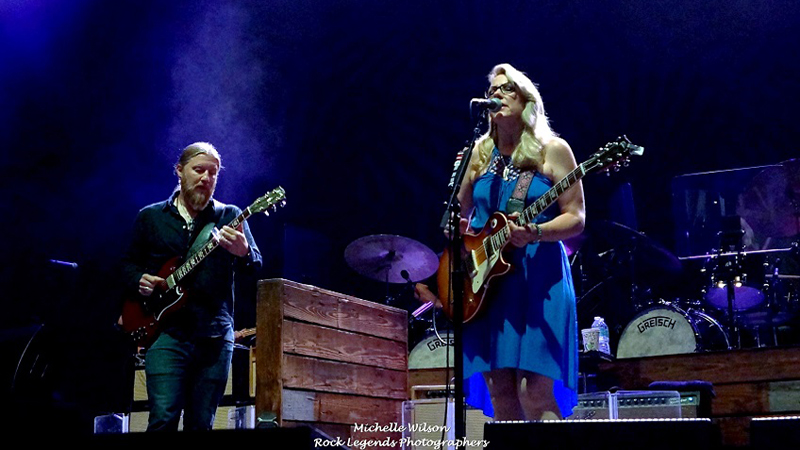 Tedeschi Trucks Band
with Drive-By Truckers and The Marcus King Band
Jacksonville, Florida • June 29, 2018
by Michelle Wilson
Daily's Place in Jacksonville was packed to the rafters on a perfect evening for outdoor music in Northern Florida, as it played host to the Summer Wheels of Soul Tour kickoff for hometown treasures, Tedeschi Trucks Band, a 12-member, jam-band tour de force. Susan Tedeschi and Derek Trucks, music biz power couple and founders of this dynamic ensemble, took some time off the road and brought their group into the studio to record a new album. Fresh on the heels of those recording sessions, the troupe has returned to the concert circuit supported by spectacular double opening acts Drive-By Truckers and The Marcus King Band.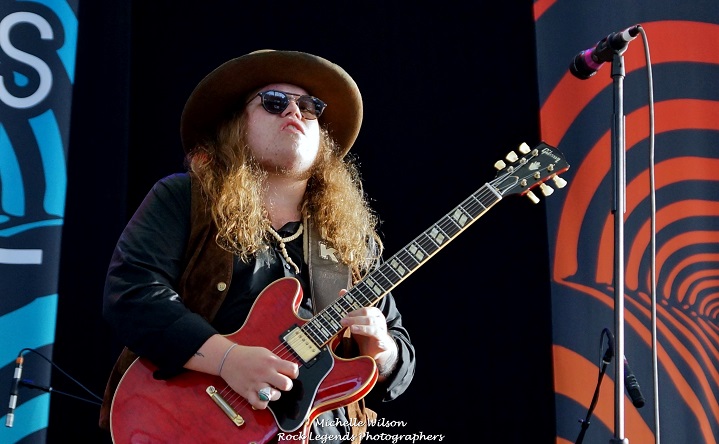 Twenty-two year old Greenville, South Carolina native, Marcus King, has quickly risen among the ranks of today's up-and-coming musicians. As a Warren Haynes protégé, King and his group, The Marcus King Band, released their first album in 2015, Soul Insight, on Haynes' label, Evil Teen Records. Their 2016 eponymously named sophomore effort was produced by Haynes. They have become a steady staple on the jam-band circuit and their fan base continues to increase rapidly. Opening the show at 7pm, MKB burned through a rapid 30-minute set with four songs off their second record including "Virginia," "Self-Hatred," "Man You Didn't Know" and "Plant Your Corn Early" as well as one new cut from a forthcoming release, "Goodbye Carolina." King plays and sings in a style beyond his years, pouring his heart and soul into each performance with bluesy, R&B-drenched vocals and killer guitar prowess. Members include Jack Ryan on drums, Stephen Campbell on bass, Justin Johnson on trumpet, trombone and backing vocals, Dean Mitchell on saxophones and Deshawn Alexander on organs and keyboards.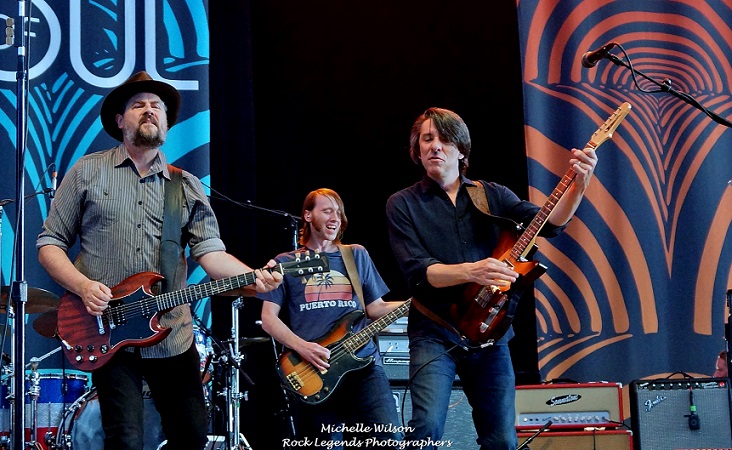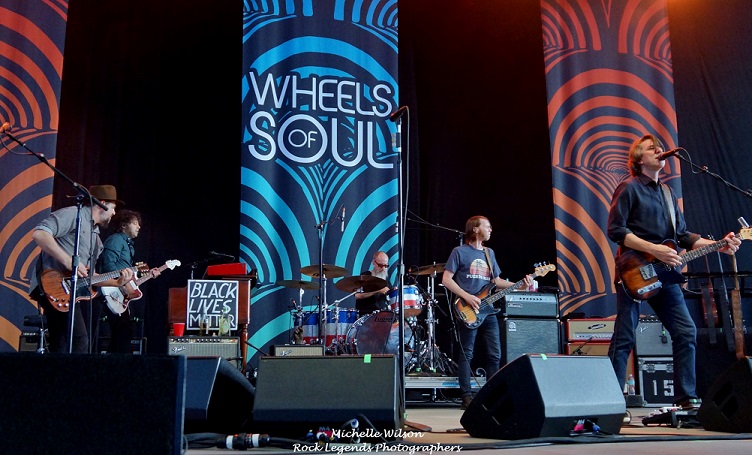 Drive-By Truckers dominated the second slot of the show with their diverse brand of Americana Southern rock featuring splashes of country and buckets of politics. The one-hour set took off at 7:50pm and remained in steady orbit with the high energy, guitar-driven riffs and socio-politically charged lyrics that have endeared them to legions of fans for over 20 years. The set included a career-spanning potpourri of their eclectic trademark music. Opening with "Ramon Casiano" from their latest offering, American Band (2016), the group also played three other cuts off that record, including "Surrender Under Protest," "Kinky Hypocrite" and "Baggage." Song selection also featured "Lookout Mountain" from The Dirty South (2004), "3 Dimes Down," "A Ghost To Most" and "Goode's Field Road" off Brighter Than Creation's Dark (2008), "Made Up English Oceans" from English Oceans (2014), the Ramones cover, "The KKK Took My Baby Away," which has become a staple in their set, a new one, "Babies In Cages," and also "Ronnie and Neil" as well as the closer, "Let There Be Rock" from Southern Rock Opera (2000). The band is comprised of founding members Patterson Hood (son of Muscle Shoals "Swamper," bassist David Hood) on guitar and lead vocals and Mike Cooley on guitar, banjo and lead vocals. The band also includes Brad Morgan on drums, Jay Gonzalez on keys, guitar, accordion and backing vocals, and Matt Patton on bass and backing vocals.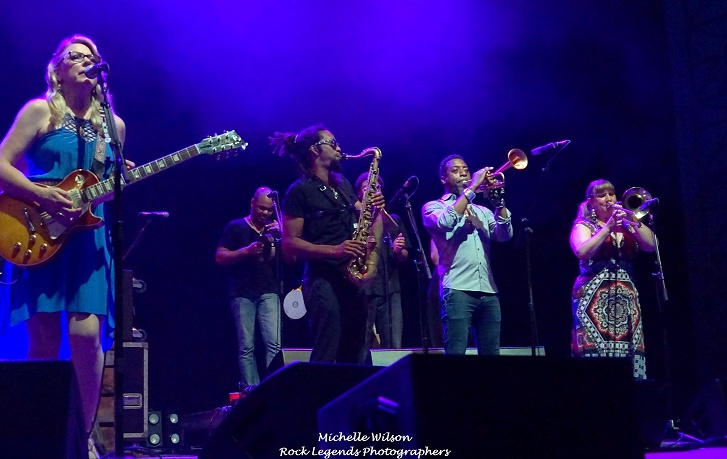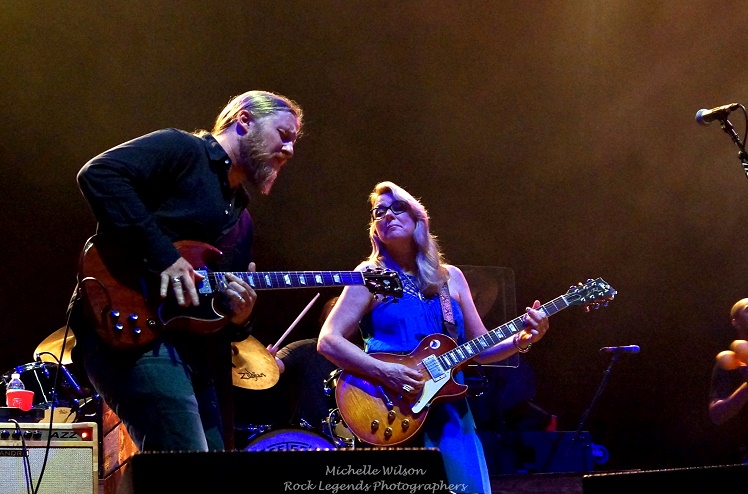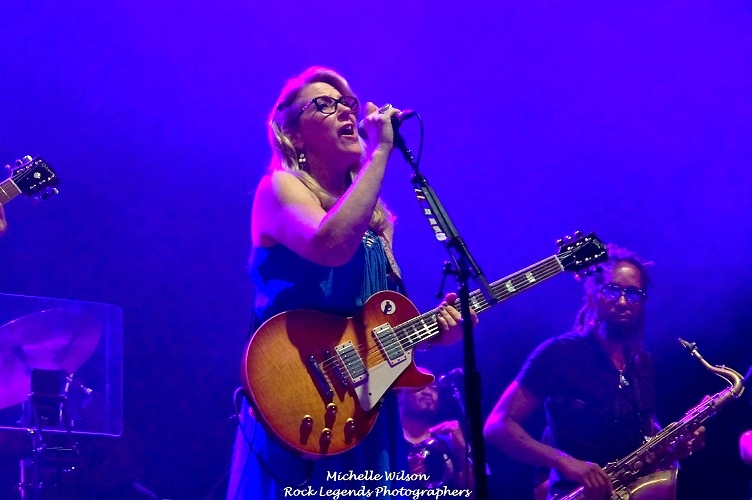 Bathed in dim light, headliners Tedeschi Trucks Band converged on stage at 9:20pm accompanied by resounding applause and cheers. Spry and well-rested following their touring pause, the tight combo launched right into their 100-minute set. Trucks was highly animated, smiling and laughing, clearly happy to be back playing for a live audience again after the break from the road. The stellar backing band includes Kofi Burbridge on keys/flute, Tyler Greenwell and J.J. Johnson on drums/percussion, Tim Lefebvre on bass, Mike Mattison, Mark Rivers and Alecia Chakour on harmony vocals, Kebbi Williams on saxophone, Elizabeth Lea on trombone, and Ephraim Owens on trumpet. Opening with "Laugh About It" from their latest release, Let Me Get By (2016), song focus encompassed several tracks from the last two records, including "Right On Time" featuring Mattison on vocals and "Don't Know What It Means" spotlighting searing guitar from Tedeschi and a frenetic sax solo from Williams, both off the 2016 album. Tracks from 2013's Made Up Mind included "Part Of Me," Derek and The Dominos' "Tell The Truth" and " The Storm," with a blazing guitar performance from Trucks during which Tedeschi sat down on a riser and just soaked up her husband's astonishing exhibition.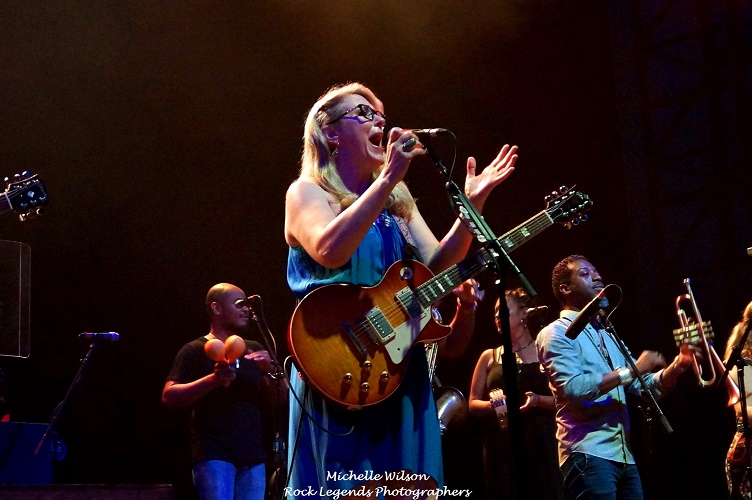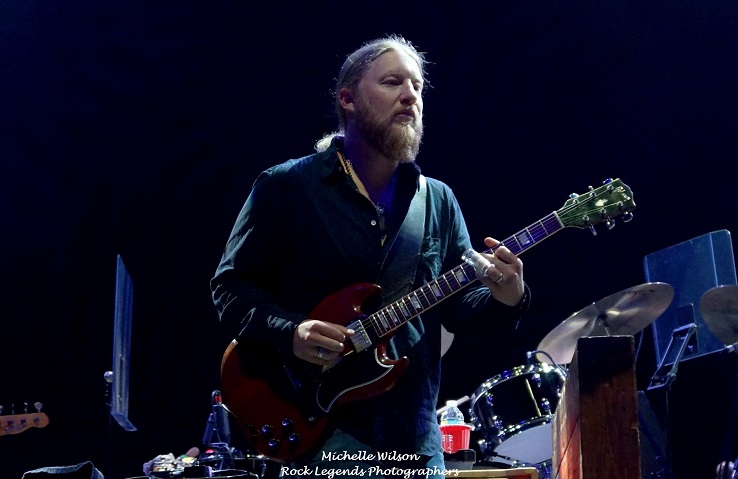 Transitioning into a segment of Allman Brothers Band classic, "Whipping Post," the band positively thrilled the crowd. Pulling out a rarely played nugget, the collective slayed the Derek Trucks Band/Bob Dylan cover, "Down In The Flood" (Already Free, 2009) as well as the Dylan cover, "Don't Think Twice It's Alright" (The Freewheelin' Bob Dylan, 1963). Tedeschi was quick to profess her adoration for Dylan. "This is from one of my favorite songwriters and thank goodness he's still with us. Some of you know him as Robert Zimmerman, some as Bob Dylan." Blended within was the B.B. King cover, "How Blue Can You Get" and a new one called "Shame" from a forthcoming release. "That's from our new record. We just finished it up. We have to keep you in suspense until the record comes out, but it's a little taste!" teased Tedeschi.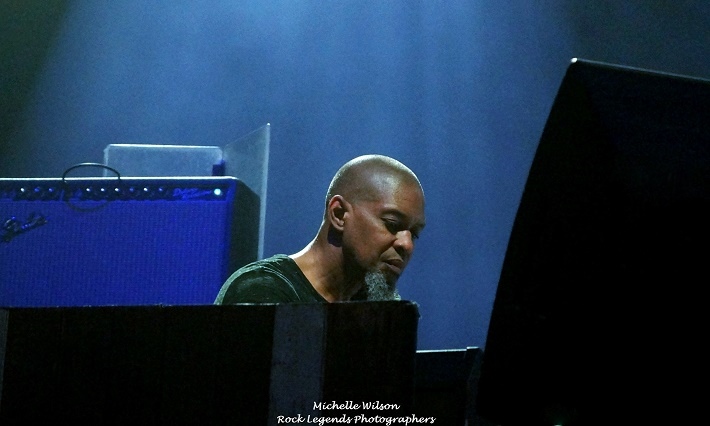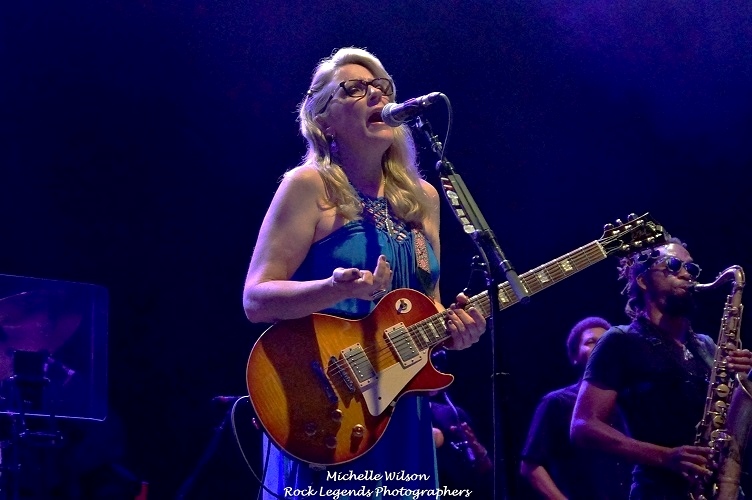 Departing briefly at 10:35pm and returning at 10:40pm for a two-song encore, the magic continued with fan favorite, the Mattison/Trucks-penned "Midnight In Harlem" (Revelator, 2011), and then they closed it out with the Joe Tex cover, "Show Me," featuring Mark Rivers on vocals.
With heartfelt gratitude, Tedeschi made sure to acknowledge the loyal following. "You guys sound great out there! Thank you so much!"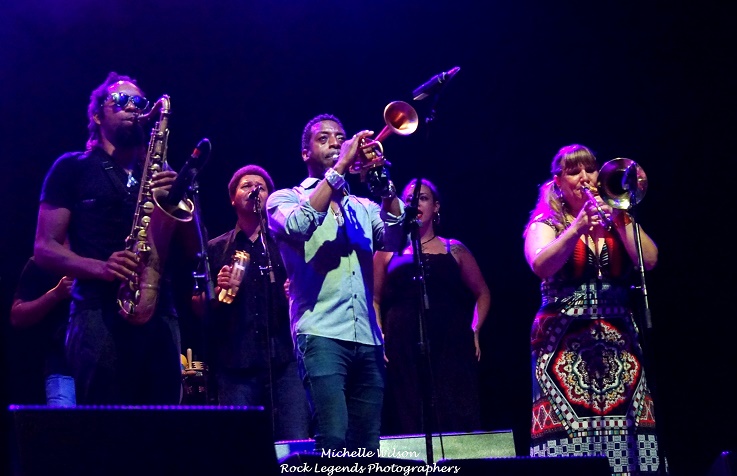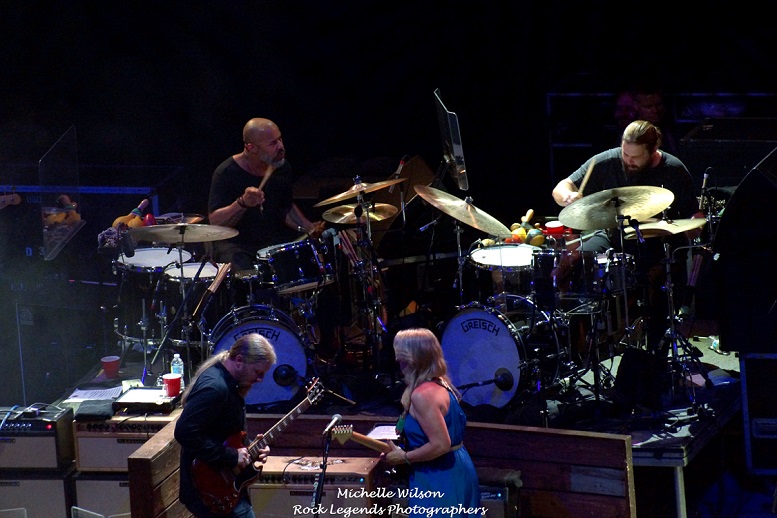 The Tedeschi Trucks Band tour with Drive-By Truckers and The Marcus King Band continues through July 29, wrapping up at Red Rocks Amphitheatre in Colorado.
Check out the full galleries below from Rock Legends Photographers.
http://tedeschitrucksband.com/, http://www.drivebytruckers.com/, http://marcuskingband.com/
---