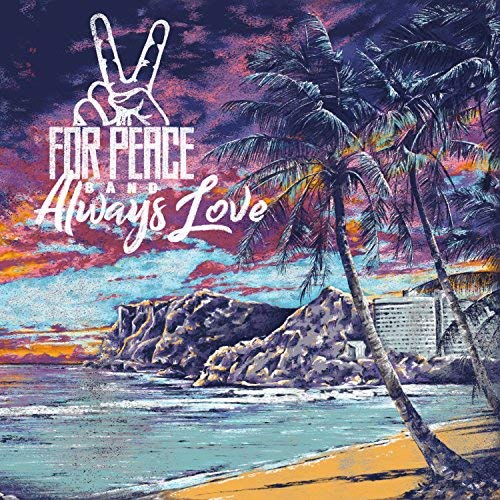 For Peace Band
Always Love
Rootfire Cooperative
Recently, I read a book called The Not-Quite States of America by Doug Mack. The book is about the US territories, the places that aren't states but are part of the United States. It's kind of a big thing here on the East Coast. In the wake of last years hurricane season a lot of US citizens from Puerto Rico and the Virgin Islands came to Florida. People telling Puerto Ricans to go back to their own country horrified me; they ARE in their country.
Guam is also part of the United State. It's closer to Japan that it is to San Francisco, but it's still the US. Guam is a popular tourist destination for Asians who want to experience the US, but can't quite afford the trip to the mainland. Guam is close enough for an easy trip and it gives them an authentic taste of the USA.
There are a lot of bands on the island of Guam, but only For Peace Band is actively seeking an audience 5000 miles away in mainland North America. For Peace Band have been honing their craft since 2012, winning several best of awards on their home turf. The tunes on Always Love are smooth, positive vibe reggae. Songs like "Chance to Grow" and "Got to Try" are pep talks about overcoming obstacles and living your best life. "Move Out of Babylon" and "Jah Guide" are sort of Rasta-lite steppers.
For Peace Band are solid players. Always Love sounds really good. They're following in the footsteps of pop-reggae bands like UB40, Steel Pulse, and Gregory Isaacs playing easy skanking tunes aimed at giving the people something fun to dance to, and maybe a something to think about too. They aren't reinventing reggae, but they are doing something pretty radical for a band from the US Territory of Guam. Kick band and relax with some positive vibes from a different island.
---