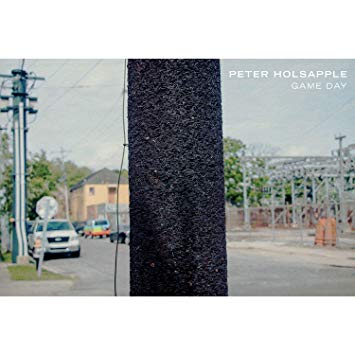 Peter Holsapple
Game Day
Omnivore
Peter Holsapple's career has been a tragicomedy. He first came to attention as co-leader of the dB's (with Chris Stamey), one of the vanguard bands of the "jangle-pop," New South, College Rock or whatever else you wanted to call it scene. While their contemporaries, R.E.M. and the B-52's were working their way up through American indie labels; the dB's were releasing albums that were only available in Europe. When they finally got a stateside deal, their label Bearsville went belly up and Like This was in limbo for years. By the time their final album (of the band's original run) came out, there was a revolving door of guitarists and bassists filling out the lineup and the group dissolved.
Peter's post dB's career included a short stint with The Chills as part of the band that recorded Soft Bomb. He toured as an auxiliary member of both R.E.M. and Hootie and the Blowfish. He recorded a duo album with Chris Stamey and joined the Continental Drifters. Peter was somewhat the Nils Lofgren of his generation, the perpetual next big thing until it was too late to be the next big thing.
In the notes to Game Day, Peter says, "With all the hard competition in the music business, it's almost impossible to come up with anything totally original. So I haven't. But I had a lot of fun making Game Day and I hope it comes through when you hear it". I'd say Holsapple succeeds at achieving his modest goal. On the title track, Peter asks, "Do I still have what it takes to pull this off?" He does. The Dire Straits-inflected tune recounts stories about bands taking their shot and falling short. On the chorus, Holsapple sings, "if you put me in the game I'll play. You don't, I won't just fade away." It's a tune about being a survivor in a very fickle industry.
Loss is a theme that runs through out Game Day. "Inventory" deals with the strange feelings of clearing out the family home after your parents have passed on. Having gone through that ritual, I recognize the emotion, nostalgia and regret that comes with cleaning out the old homestead. "Continental Drifters" is a eulogy for the band of the same name. Peter sighs, "Never was a better time had, never was better band… until it fell apart in our hands."
The most devastating tune on the album is "Don't Mention the War". The builds slowly like something the Band might have done on Music From Big Pink. It's a story about living with a relative suffering from PTSD. The song contrasts the fun loving, guitar playing, joke telling, favorite Uncle with the haunted man who sleeps on the couch reliving the war in his dreams. It's a song that requires your attention and is utterly devastating when you realize what's happened.
Game Day is a really solid effort. We're beyond grabbing the brass ring in the music industry. That's a young person's game. This is a record that had to be made because that's what Peter Holsapple does. He writes really good songs and there is no reason to stop.
---