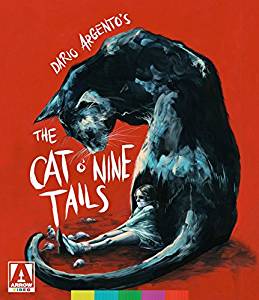 The Cat O' Nine Tails
directed by Dario Argento
starring Karl Malden, James Franciscus, Catherine Spaak
Arrow Video
Gallo films are a genre that is quintessentially Italian. The name refers to a kind of cheap, pulpy, thriller novels that were identified by their yellow covers, so the genre literally translates to yellow. The genre started off with standard crime plots, but quickly evolved. The films became more style than substance and a look and feel defined the genre more than plot mechanics. This fluidity allowed the films to not only run the gamut from simple kidnapping plots to absolute bonkers psycho-sexual nightmares.
Italian cinema has never been afraid to borrow from other films and giallos were no exception and one of the genre's favorite inspirations was Alfred Hitchcock. The Cat O' Nine Tails is easily the most Hitchcock-ian of Argento's films with nods to Vertigo, Rear Window, Suspicion, and others in clear focus.
Dario Argento's follow-up to his hit giallo breakthrough The Bird with the Crystal Plumage is The Cat O' Nine Tails, and is the middle part of Argento's "animal" trilogy. The films are linked only by the reference to animals in their titles ( The Bird with the Crystal Plumage, The Cat O' Nine Tails, and Four Flies on Grey Velvet) but otherwise have nothing to link them together. The plot, which is under-developed and overly complicated, involves the break in burglary of a medical research facility and the rash of murders of anyone looking into the crime. The set-up and script is so loose that literally anyone could be the killer and the unmasking of the killer proves to be utterly anti-climactic. Luckily for the audience the whole affair gets paid off with a brutal, exciting, rooftop chase that ends with a memorable death as a man falls though a glass skylight and down an elevator shaft.
The requisite American actors for this film are James Franciscus as an intrepid reporter and Karl Malden as a blind crossword puzzle enthusiast who's heightened hearing and sword cane help unravel the mystery. Franciscus is predictably hammy while Malden is predictably solid in a character that could have easily become risible. Catherine Spaak is on hand to be eye candy and a potential killer and victim but really has little to do.
This film really kicks off Dario Argento's flair creative, gory death scenes with a man being pushed in front of an oncoming train that has a hard brutality that had to be shocking in 1970, when similar scenes in Hitchcock films had always cut away from the impact. He still wasn't in his full glory of mind bending visuals and abandonment of narrative logic but you can see the groundwork being laid for the masterpieces to come like Deep Red and Suspiria.
Arrow Video has a reputation for producing outstanding Blu-Ray presentations of cult films and The Cat O' Nine Tails is no exception. The film looks so much better than an earlier Blue Underground release a fan could justify a purchase on that score alone. Arrow also ups the ante with a number of interviews with cast and crew as well as an audio commentary from the dynamic duo of horror commentary Alan Jones & Kim Newman who produce an insightful and entertaining breakdown of film.
---