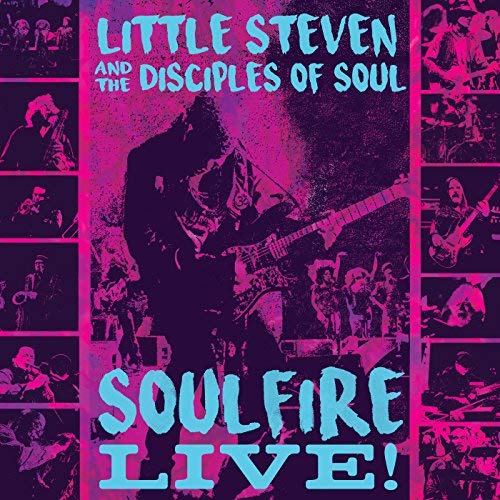 Little Steven & the Disciples of Soul
Soulfire Live!
Wicked Cool Records
Even if you've never heard his music, you know Little Seven – aka Miami Steve Van Zandt. Maybe you only know him as Silvio mob consigliore from The Sopranos. Maybe you've seen him as the gangster in hiding on the Netflix show, Lillyhammer. Maybe you know his as Bruce Springsteen's foil in the E Street Band. Or perhaps you know him as the host of Underground Garage on satellite radio. He is an evangelist for primal rock and roll. He preaches the gospel on his radio show and he puts his money where his mouth is with his record label, Wicked Cool. That should be more than enough for one man, but he also leads his own band, the Disciples of Soul. It's been ages since the Disciples roamed the earth, but this year Little Steven released a new studio album Soulfire and this companion set, Soulfire Live!.
Before I get started telling you about the songs, I want to testify about the Disciples of Soul. Little Steven has assembled a powerhouse rock and soul band. He's got a wicked horn section, some angelic backing singers and an amazing rhythm section. The Disciples of Soul are in the same league with their Jersey brethren, the Asbury Jukes and the E Street Band.
Soulfire Live! Is a three CD set. Each disc highlights a different aspect of Little Steven's career. Disc one opens with a testimonial by Mike Stoller, the legendary Brill Building songwriter. The songs that follow are a testimonial to the rock and soul sounds that inspired the young Van Zandt. New tracks like "Soulfire" sit along side deep cuts like "Love on the Wrong Side of Town" originally written for and performed by Southside Johnny. "Standing in the Line of Fire" was a tune originally written for Gary US Bonds. A good portion of the Soulfire album is Van Zandt putting his stamp on these tunes he originally wrote for other people.
The high point of Little Steven's solo career was Sun City, the multi-artist, anti-apartheid anthem. "Sun City" isn't on this collection. Luckily, the world has moved beyond the concerns the song was addressing. Van Zandt has a long record of advocating for causes and taking on touchy issues. The second disc spotlights some of Little Steven's political songs. "Down and Out In New York City" opens with a great rendition of the James Brown tune for the movie Black Caesar. I dig what Steven is talking about on "Solidarity", "Leonard Peltier" and "I Am A Patriot". I'm not so sure about Van Zandt as a reggae crooner. "Bitter Fruit" talks about the plight of farm workers to a Latin funk groove. The band do get their rock on with "Forever" and the old Electric Flag tune, "Groovin' is Easy".
The closing disc is all about Steven the fan. The Disciples tear it up on some classic rock songs with all-star pals. Little Steven gets down with AC/DC's "You Shook Me All Night Long", Gregg Allman's "Not My Cross to Bear" and John Lennon's "Working Class Hero". The band morphs into the J. Geils Band when Peter Wolf joins them on "Freeze Frame". The climax of disc three comes on "Tenth Avenue Freeze-Out" and "I Don't Want to Go Home" when Bruce Springsteen joins the fun. The Ramones holiday classic, "Merry Christmas (I Don't Want To Fight Tonight)" closes out the collection is a thoughtful, festive manner.
I'll confess that I wasn't a big fan of the records Little Steven put out in the 1990s. He's always been a great songwriter, but there was a reason Southside Johnny was the singer in the Asbury Jukes and not Steven. Time has been kind to Van Zandt. His voice has mellowed like aged whiskey. Now, he can hold his own with his peers, Springsteen and Southside Johnny.
Another nice feature of the Soulfire Live! set is a nod to DJ's everywhere. Van Zandt gives rather long introductions to several of the tracks. Steven is a good storyteller giving personal and historic context to the tunes he's playing. If you're a DJ, you know how frustrating long intros can be. If you just want to play the song, you've got to do some gymnastics to jump past all the talk. Van Zandt makes the stories a separate track. It may be something that only a DJ would notice, but I certainly appreciate it.
Little Steven continues to stand up for causes he believes in. The Soulfire Teacher Solidarity Tour runs from October through December. Teachers get free tickets and a TeachRock professional development workshop. As long as he draws breath, Steve Van Zandt will be preaching the gospel of rock and roll.
---