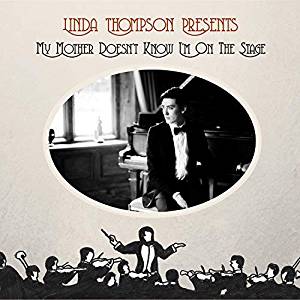 Linda Thompson
My Mother Doesn't Know I'm on the Stage
Omnivore
Picture yourself in a small town music hall somewhere in England. It's sometime between the wars. The times are hard and you want an escape for an hour or two. The hall is a bit shabby and they don't have an orchestra like the big places in the cities. You can have a pint, sing along to songs you know and have a few laughs. Your worries and cares will still be there in the morning, but for now, you've got an escape.
My Mother Doesn't Know I'm on the Stage is credited as "Linda Thompson Presents". This isn't a Linda Thompson solo album, it's a record that captures the essence of a production Thompson mounted paying homage to the English music hall tradition. If you're a Yank, think of the vaudeville and burlesque shows that were popular about the same time in the US.
The performances on My Mother Doesn't Know are very stripped down. A piano player accompanies the singers, or a few accompany themselves on guitar or ukulele. "Beautiful Dreamer", "Brother Can You Spare A Dime?" and "Show Me the Way to Go Home" should be familiar to everyone. Other tunes are English through and through.
A lot of the humor in these old songs is rooted in the English class system. A song like "Burlington Bertie from Bow" skewers the pretensions of the upper class by having a decidedly not posh fellow putting on airs. Teddy Thompson (Linda and Richard's son) sings the tune originally popularized by proto-drag star, Vesta Tilly. Linda sets the tone for the show with her opening number, "I Might Learn To Love Him Later On (Tra La La"). In a cockney accent, Linda sings about the fellow who she says is sweet on her. So he's 85 and goggle eyed. So "he's gouty and cancerous, he stutters and he dribbles but they accept the checks he scribbles." Actor Colin Firth, sings the title song "My Mother Doesn't Know I'm on the Stage". The song lists all the things that are more acceptable to dear old Mum that being an actor. Bigamist, deserter, thief, cocaine addict are all things more proper.
Like any good variety show, it's not all comedy. Linda's son-in-law, James Waltbourne contributes a wistful original tune about missing London. Linda sings about heartbreak during wartime on "Goodbye Doll Gray". "The Lark In the Clear Air" is an old English ballad sung with pure heart by Cara Dillon. The show ends with the cast leading a sing along of "Show Me the Way To Go Home".
You can feel that there is a missing visual element of the campy cabaret on "A Good Man is Hard to Find". The music hall era was all about connecting with the audience in the moment. Linda and her friends do a nice job evoking a bygone era.
---