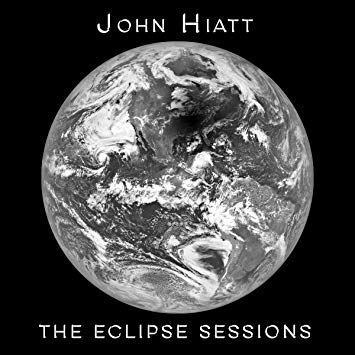 John Hiatt
The Eclipse Sessions
New West Records
Songwriter John Hiatt has been crafting his art since the mid-'70s, both solo and in groups (such as the superstar-studded Little Village from the '90s featuring Hiatt with Ry Cooder and Nick Lowe), and few artists today are as instantly recognizable as he. Partly it's the craggy, gravelly voice to be sure, but it's also his words, such as the opening cut "Cry To Me": "Memories of Highway 19 still haunt you/Babies on hips and men made out of motorcycle parts/Broken windows and crushing blows that taunt you/Not one damn thing in the yard that starts". Anyone who has spent any time down south knows the bitter accuracy of those words, and Hiatt has honed his writing to a fine edge.
This record was made in August of 2017 and was produced by Kevin McKendree (who also played keys) along with McKendree's son Yates, who at 16 played lead guitar on the album. Tonally it follows Hiatt's last few releases, more of an acoustic vibe than the gritty rockers of his early years such as "She Loves The Jerk" or "Slow Turning", and it suits. Songs such as the poignant "All the Way to the River" and the wistful remembrance of "Aces Up Your Sleeve" – "I don't know if our love means anything anymore/But it used to make you breathe" flow organically, while "Poor Imitation of God" rocks it up a touch, and serves up some vintage Hiatt wit – "Unto thine image made/But on that day the mold was broken I'm afraid". The only thing missing here is Hiatt's long-time road guitarist, the monster slide guitar legend Sonny Landreth, but the 11 cuts found here probably don't need any tweaking anyway.
John Hiatt has released over 20 albums, and is a mainstay on the Americana and folk scenes. The Eclipse Sessions gives you ample proof as to why.
---