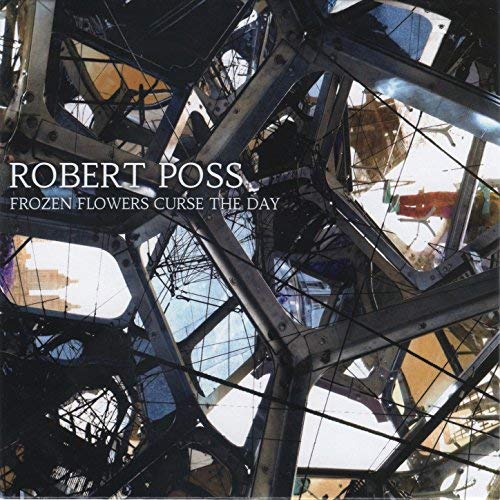 Robert Poss
Frozen Flowers Curse the Day
Trace Elements Records
I once owned an album called Atmospheres for Dreaming. It was a collections of guitar instrumentals that fit somewhere in between the world of rock and avant classical. Playing Frozen Flowers Curse the Day, I think of that album title, as an appropriate description for this new work from Robert Poss. Robert has long been a fixture in the New York music scene. He first made a splash working with composer Rhys Chatham (along with fellow guitar explorers like Lee Renaldo and Thurston Moore). In the late 1980's he lead the Band of Susans, an art damaged rock collective often compared to Sonic Youth.
There are elements of the frenzied Band of Susans to be found here, but it is the experimental compositions of folks like Steve Reich and Phil Niblock that are the stars of the show. Most of the songs on this disc are meditative instrumentals built around the inventive use of drones. The opening track, "More Frozen Flowers" has filigreed guitar picking and horn riffs orbiting oscillating bass drone and a manipulated guitar wash. "Partial Clearing", "The Test Pattern Setting" and other compositions follow a similar structure contrasting melody and repetitive phrases. The music works like Brian Eno's ambient projects in that these sounds can be atmospheric backdrops or engaging and intriguing compositions, depending on how much attention you want to devote to them.
Echoes of the old Band of Susans days crop up on "The Sixth Sense Betrayed", "I've Got a Secret List" and "You'll Curse the Day". I feel that last track especially strongly right now. Big, distorted guitar chords form a curtain over a propulsive drum pattern. Layered between the guitars and drums are Poss's vocals. There is a sense of foreboding in the voice. Something happened that would make you curse the day. What happened is hiding behind all those guitars. Like the rest of Frozen Flowers Curse The Day, the answer is there if you want to dig deep. If you don't care to know, it's still a rocking tune.
---