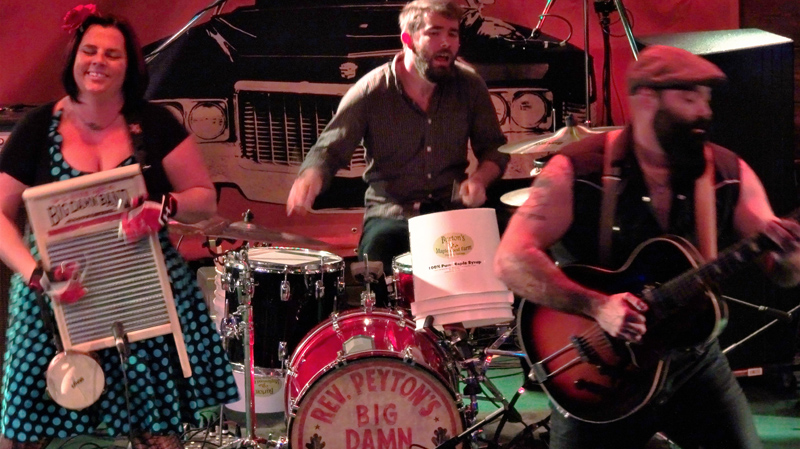 Reverend Peyton's Big Damn Band Shines at Knuckleheads.
Kansas City, Mo • 10/05/2018
by Jeremy Glazier
October 5th was the release date of Reverend Peyton's Big Damn Band's new album Poor Until Payday and as Cedar Rapids, Iowa seems to have fallen off the map for cool music visits, my father and I traveled the 5 hours to Knuckleheads in Kansas City, Mo to check out the show. I also had the pleasure of talking with the Rev the month before the album dropped and what we could expect from them on this album.
He's the embodiment of humility and positivity and while talking with him on the phone, I could feel the sincerity. I asked how he got started on this musical path and who it started with. "For me it all starts with country blues, the heart and soul of who I am as a guitar player and musician is I play country blues..the earliest blues pickers were country blues pickers, Bukka White, John Hurt, Mississippi Fred McDowell, folks like that, that's what I started out being obsessed with and I still am."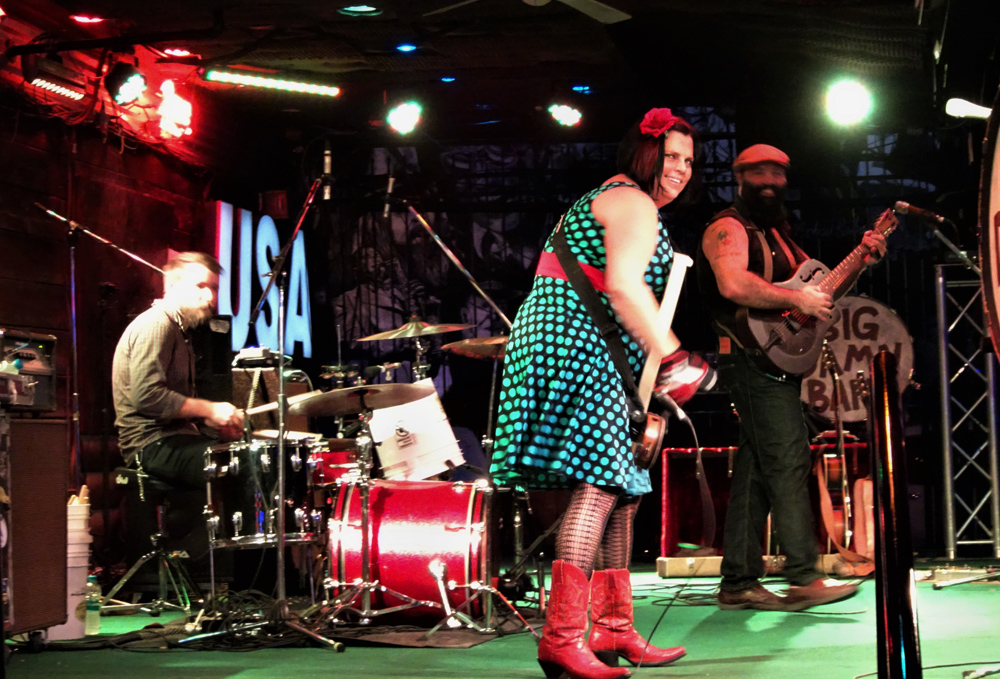 At Knuckleheads those words rang true as Rev Peyton, his wife, washboard player, back up singer, and driving force behind the Rev, Breezy Peyton, and third member of the amazing trio, Drummer Max Senteney, take the stage.While the music they preform is a hot-rodded version of classic country blues, it's as pure as it gets.
The open air stage in the back is surrounded by train tracks and an industrial setting that fits the nights entertainment perfectly. I was perched in the second floor where I could see both the excitement of the crowd that sat, stood, and danced their way through the night, and the trains as they shunted back and forth and occasionally sounded off as if applauding the show. While it's not the theater setting you may be used to, its definitely an amazing venue that must be visited and experienced.
Breezy backs up his lead vocals with some great vocals of her own and effortless washboard skills that accentuate each song. She moves around the stage as Ginger to his Fred and simultaneously, Laurel to his Hardy. The interplay between them and the stationary, but not left out Max Senteney at the drum kit and Burtons Maplewood farm Maple Syrup bucket is pure joy. These 3 love to preform their heart felt music and filled Knuckleheads with positive vibes.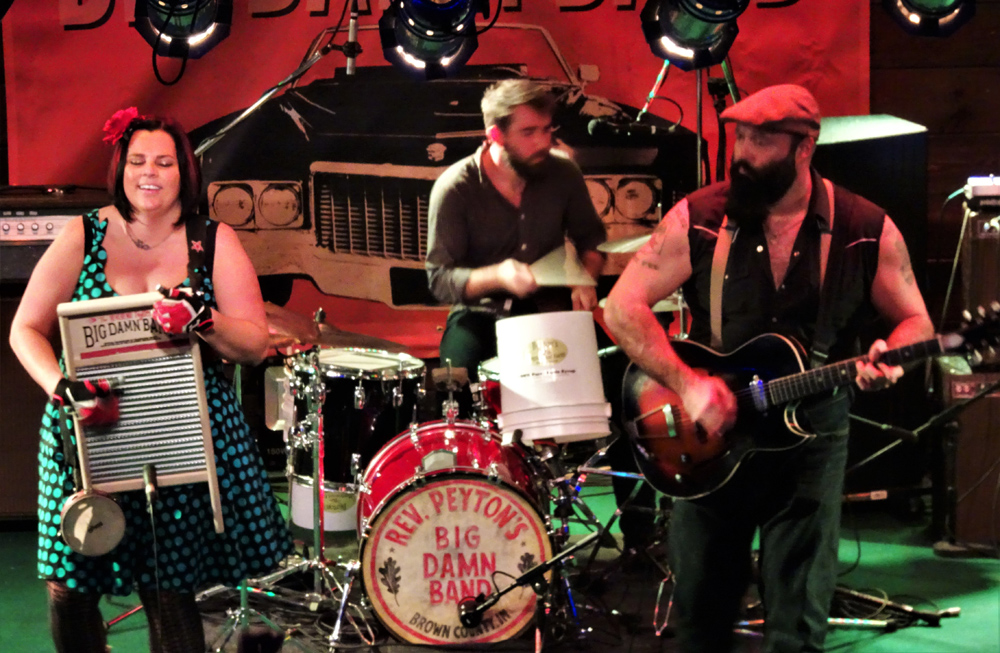 During our phone call, Rev says of the new album and his songs in general, " I'm trying to take it to new places… and write new songs. A lot of times in blues what we have is people not really writing songs, their taking old songs and changing the words to it and that's not writing a song. I trying to come up with fresh melodies, new songs, and taking this music and moving it forward, it's important to me and important for the genre."
He also mentioned to me that the bass player in the band is his thumb and really had to be seen live to understand it. I took note of that during the show and his guitar playing is as technical as anything I've seen, while maintaining the illusion that he's just playing guitar.
The album is a direct representation of the live show and was recorded live in the studio, all in the same room, and no overdubs of the bass lines. Rev says "I feel like it's the best we've done with getting that sound. I think a lot of people are going to think there'a second guitar or a bass player. With this record I really wanted to make a record that made people feel good. and at the end of the day I'm trying to write songs that are universally catchy and fun."
He continues, "Right now were in a really weird time where there's a lot of negativity everywhere you turn, every time someone posts on the internet there's a negative comment or someones throwing a wet blanket on everything and there's this ugliness in the air everywhere, it's scary that I don't think it's a good representation of what we really are as human beings but it's what's being put out there and what's on the internet."
"Normally I don't consciously write about anything but with this record there's a part of me that I was constantly like, I want to write songs that make people feel good. I felt like there's enough people out there giving their opinion on this that and the other and for me i felt like this record is for anybody in terms of like it's about pushing forward and sort of like standing in the face of ugliness and adversity and moving forward. I feel like I needed those songs myself and most the time as a musician you do songs for yourself and I needed some songs that were positive and about driving forward."
Rev says "A song like poor until payday is kind of about getting flush again so you can go out but really, for me, that song is bigger it's like waiting on that big payday to come…and until that comes were going to keep going."
And keep going I hope they do. I saw first hand at the live show that his words aren't just good interview fodder, but his real truth. The music they create resonated with the crowd, who danced, sang, and became as much a part of the show as the band.
They are currently traversing the country and putting on one fantastic show after another. Nothing, including trailer or van repairs they make on the side of the road is going to stop them, so get out and see them if they come anywhere close. And if they are not close, they are definitely worth a drive. ◼
---