Alice Rohrwacher
by Generoso Fierro
The eclectic World Cinema programming at the American Film Institute Fest is always exceptional, as year after year they have brought the most eagerly awaited new features from established talents who have consistently garnered prizes at Cannes, Venice, and Berlin, and this year was no exception as AFI Fest 2018 welcomed the newest and justifiably distinguished works from Nuri Bilge Ceylan, Hirokazu Kore-eda, and Jafar Panahi to name a few. As strong as the features were from veteran directors, what distinguishes the curation this time around was the work of some of the newer voices in international cinema, most notably the brilliant third feature by Italian director Alice Rohrwacher titled Happy as Lazzaro, which earned her a Best Screenplay award at Cannes. Amazingly, given that Rohrwacher's first feature, Heavenly Bodies, was only released seven years ago, this 2018 Best Screenplay win for Happy as Lazzaro is not her first award at Cannes, as her accomplished 2014 feature, The Wonders, received that year's Grand Prix.
Like The Wonders, Happy as Lazzaro shares that film's timeless and naturalist core narrative of rural people who are out of sync with the modern world. Both films also interestingly utilize the talents of veteran actresses playing against type (Monica Bellucci in The Wonders, and Nicoletta Braschi in Happy as Lazzaro), and the two features both contain exceptional performances from the director's sister, Alba Rohrwacher.
Happy as Lazzaro follows the titular character, a pure spirited man (played by the seraphic-faced Adriano Tardiolo) who works amongst a community of sharecroppers in the mythical town of Inviolata where they toil for a tobacco overlord, the Marchesa ÂAlfonsina de Luna (Nicoletta Braschi). Through the use of organized religion and a certain amount of twisting of the truth, which convinces the workers that they are environmentally unable to leave their village, the Marchesa exploits the sharecroppers who are overwhelmingly unhappy with their situation, except for Lazzaro, whose unblemished soul allows him to complete his farming tasks without issue while he even becomes the unknowing victim of his already exploited community. Regardless of his treatment, Lazzaro lives beatifically in the hills above Inviolata until one afternoon when Lazzaro befriends Tancredi (Luca Chikovani), a young nobleman and member of the Marchesa's family who wishes to remain separate from his people as well. Shortly after sealing their friendship, Lazzaro hides Tancredi so that this cynical privileged man can fake his own kidnapping to make some funds to escape his own predicament, but the subsequent search for Tancredi uncovers the ugly truth of the Marchesa's activities, which have a ripple effect that forces the workers of Inviolata into the urban landscape, bringing them face to face with an even more grim reality.
I spoke with Alice Rohrwacher during AFI Fest 2018 about her meditative feature, focusing on her symbolic use of the Roman Catholic religion, her comments in the film on systematic exploitation, and the use of surrealism and the grotesque to draw attention to urgent contemporary economic and social issues.
• •
Q: After the family's liberation from Inviolata, Antonia regales to Pippo on the bus a story of a saint and a wolf. You do not identify the saint as St. Francis of Assisi, but given the story, are we to assume that this is a reference to St. Francis' experience with the Wolf who terrorized the town of Gubbio, and who St. Francis eventually appeased by offering it food from the very people whom it had terrorized? If it is a direct reference, then is what we see as the inability of Lazzaro to appease the wolf of the modern, urban society beyond Inviolata due to the fact that this wolf is an unnatural being?
A: There are many ways to explain this. Let's say that Antonia only knows stories of saints. In fact, she is unable to tell any other kind of story, but somehow with the power of these narratives, she can bring us to another time. Of course there are references to the Wolf of Gubbio and St. Francis of Assisi, but I think that Lazzaro is a saint that exists outside of religion, so we can see similarities between Lazzaro and St. Francis, but I wanted Lazzaro to exist outside of that world. He's almost prehistoric. He's beyond a formal human era.
For me, in my film there are two religions: On one side is Roman Catholicism, and it is a very historical religion, and in a way, it is part of the problem in the film because it is an instrument that is being used by the Marchesa Alfonsina De Luna to keep the sharecroppers in ignorance. So, in Happy as Lazzaro, the Catholic religion is a very strong force over people, but there is another religion in my film, a religion of the people who believe. It is the religion of innocence, and there is no name for this religion — it is just the belief that human beings have in other human beings, so in Antonia's story, you can see how the individual names of these saints could be connected, but there is not a direct reference.
Q: What I find interesting in your film is that the exploitation comes from the sharecroppers as well as the Marchesa, suggesting that exploitation and even cruelty is an essential part of natural existence, and here I am thinking of the moment when Pippo is being teased when he was a child that his mother committed suicide because of how ugly he is.
A: I wanted to establish that there are behaviors that are good and bad in this film, and we cannot simply make the conclusion that the peasants are good and the Marchesa is bad, as this kind of exploitative behavior is like a chain effect in that the people who are being exploited will occasionally seek out others to exploit who they feel are beneath them, but sometimes there are miracles because, in this ugly cycle, there are people who remain free of this need to take advantage of others, and they are considered by their peers as fools, but maybe they are in fact, saints.
Q: In terms of the geographic change that occurs in your film from a rural to an urban landscape and how that change plays out as far as the behavior of your characters, do you suggest that nature provides a protection of sorts for innocence? I ask this question as I feel that your film, in terms of its message, has a kinship with Lee Chang-dong's most recent feature, Burning, in which two of the protagonists, both rural characters, find themselves in Seoul for different reasons, and the various challenges of urban existence and their inabilities to react quickly enough play out in tragic ways.
A: From one side, I think that over the last fifty years the world has changed in such a dramatic way that we are sort of stunned, and for that reason, we don't acknowledge the good and the bad the way we used to — we just acknowledge the size of the change. Before all of this rapid change that has occurred recently, humans moved in conjunction with what had occurred in the eras before them, but now, like what happens to Lazzaro in my film, we seemed to have jumped from one era to another without any link to the past. Now, I am not saying in any way that it was better or worse in the past. I am not nostalgic, and as a woman, I have absolutely no desire to return to a time long ago, as it was even harder than it is now, even with the problems that the world is seeing today, to have been a woman in any point of the past, but I do feel a need to show to my children and the people in my life that something monumental has happened to humans, that we once had a common language somehow against enemies, that we now have passed from a social middle age to a human middle age. So, I think that if you were making a movie about this phenomenon you need to do it right now, because things are moving so fast that in a few years, even the storytelling language will be fantasy, and for that reason I feel that this generation is on the precipice of something, and we have to document this before we move on.
There is something available for these rural people to use in the city, as I show with the group from Inviolata finding the chicory to eat right by the squat where they live, so there is nature thriving in the city, but this isn't as much about the urban environment making nature unavailable as it is about there being no place for innocence. I tried to create an atmosphere in Happy as Lazzaro that is timeless. When the sharecroppers are in Inviolata, they do not know about the outside world, and so they are able to maintain their sense of innocence, so they aren't necessarily good or evil because the definitions of good and evil are not clear to them, but now that they have experienced the reality of the outside world, they have become skeptical, and I feel that my film tries to divide these two times. As for nature, it is always there, and it is consistent to all experiences, just like the wolf that you see in the bank and in the street with cars, you also see the plants that grow on the borders by the side of the train, but the problem is that people do not want to see it.
Q: As in the way the sharecroppers harvested tobacco for the Marchesa, but yet, could not identify the plants that they could easily eat in the area around them because they were never instructed in Inviolata on how to sustain themselves?
A: Yes, and because of being so insular in their environment in Inviolata, they ate only what the Marchesa gave them, so now, when living in the city, they only try and eat processed, packaged food that they steal.
Q: There's something that I discussed at last year's AFI Fest with your colleague, director Jonas Carpignano, when we spoke about his film, A Ciambra, regarding the dilemmas faced by rural people who are being thrust into more urban situations, that I'd like to discuss with you. There are moments in his film that, to me, conjure up memories of the Italian grotesque films of Ettore Scola, Marco Ferreri, and Lina Wertmüller. Specifically in your Happy as Lazzaro, there is also an absurd, but no less real possibility of people today living like the people from Inviolata, who are forced to live in city and have no choice but to squat in an abandoned oil tanker and who would have to steal an entire display of potato chips from a gas station to feed their group. Do you feel that these moments in your film appear because the dire economic and refugee situations that exist in today's Italy, and throughout the world, mirror the era when the Italian grotesque films were being produced? Do you feel that given the extreme issues going on now, that a more exaggerated, almost surrealist treatment needs to be employed in order affect audiences, as the grotesque films did in the 60s and 70s?
A: I didn't make any direct references to any particular scenes in those Italian films, but I very much do feel that, specifically how the platforms of most politicians have become so nightmarish, even yes, grotesque as their agendas are not based on what anyone would see as rational thought, so during this time, I truly feel that we do indeed need more surrealism in cinema to get people to understand their reality. For example, let's look at the scene in (Happy as) Lazzaro when Nicola is selecting refugee workers to pick olives, and he is having them outbid each other so that he can select the workers who will work for nothing. The scene, as I created it, is done in an absurd, surrealistic manner, but in this desperate time, it plays out more realistically than a scene using realism. So, sometimes you indeed need to be grotesque to understand reality when the reality is this vulgar.
Q: Finally, this is a personal question, but it has been quite a while since we've seen Nicoletta Braschi in a film, and so my wife and I were thrilled to see her in Happy as Lazzaro. We love her work, especially her films with Jim Jarmusch where she plays wide-eyed, sweet characters. In your film, her performance as the Marchesa exudes a conniving insipidness that I have never seen her do in a film before. To my knowledge, she has never played a villainous role before, so why did you feel that she was right for this part?
A: I always love to work with great actors and to ask them to play against type, the way that we imagine them in our imaginations, like the way that I used Monica Bellucci in my film, The Wonders. So, for Nicoletta in Lazzaro, it was fun for me to have her play a villain because she almost always plays characters who are good spirited and sweet, like the parts she plays in Jarmusch's films, so I felt that it added something intangible to her role as the Marchesa.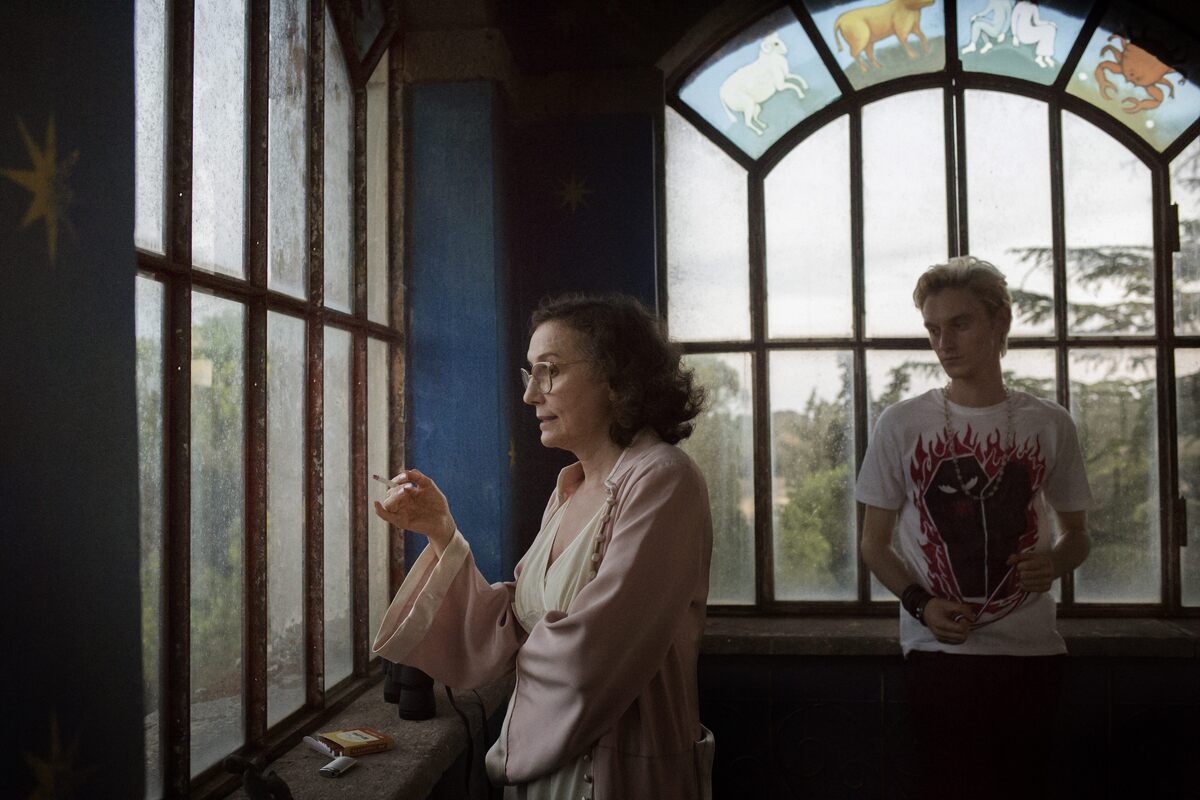 Special thanks to Rachel Allen at Cinetic Media for her valued assistance with this interview.
Happy as Lazzaro opens in NYC on November 30th. ◼
---