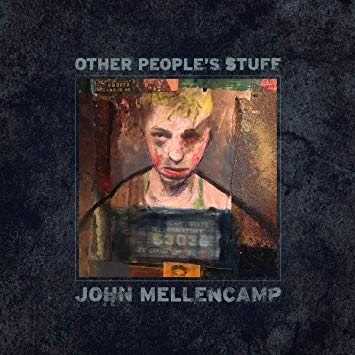 John Mellencamp
Other People's Stuff
Republic Records
After 40+ years in the music industry what is left for John Mellencamp to do in his career? Well, based off the content of his newest album, Other People's Stuff, it's appears he plans to continue putting out one fantastic album after another. While it's not new material, John's affinity for these songs, in this particular order, and with these particular meanings, it's a very refreshing album and one that will touch the soul of his fans.
This album culminates a number of tracks from previous albums that were written by "Other People", thus the title. While it may seem like just another compilation album, John Mellencamp has reworked a number of the songs and added new elements from the originals recordings. Some songs are re-recorded, such as "Eye on the Prize", and new life brought to them, while others were perfect to begin with. As John said on a recent 60 Minutes interview with Harry Smith, "If I had to say I had an American songbook, those songs would be it"
I dug up a few interesting details on the tunes and from who he pulled them. It's as eclectic as John himself and just as rich in American history.
"To The River" is an adaptation of "All Roads to the River" by Janis Ian that John first recorded on Human Wheels back in 1993. The lyrics, "And I spit in the eye of safe company. When I dive right down to the undertow, the deeper i drown, the higher I'll go" seem custom made for this American rebel and a great first track to set the tone of the album.
"Teardrops Will Fall" was on 2003's Trouble No More and written by Marion Smith and Dickey Doo from Dickey Doo and the Dont's and charted on Billboards Hot 100 in 1959. Mellencamp maintains some of the doo-wop feel but stamps it with his signature John Mellencamp sound. "In My Time of Dying" is a Blind Willie Johnson song and was on Mellencamp's 1999 Rough Harvest.
"Mobile Blue", written by country singer Mickey Newbury for his 1971 album Frisco Mabel Joy. The song seems like a roadmap for Mellencamp's nuances in both his singing and lyrical delivery. Recorded for last years Sad Clowns and Hillbillies, it's easy to see the influence Newbury and his songwriting have on Mellencamp.
"Eye on the Prize", often sang by Freedom Riders during the tumultuous 1960's is redone here with fellow Indiana native, Josh "Reverend" Peyton of Reverend Peytons Big Damn Band. His version was originally preformed for President Obama in 2010 for the Celebration of Music from the Civil Rights Movement event. Reverend Peyton's unique slide playing and Mellencamps voice are the only instruments on this tune and one of my favorites on the album.
"Wreck of the old 97" was popularized by country singer Vernon Dalheart around 1926 and is based on the true story of the Danville train wreck in 1903. John sings it with a clarity and narrative that really grabs you as though he was relaying the story to you the day after it happened.
"I Don't Know Why I Love You" was written by Stevie Wonder and recorded by Mellencamp on the 2003 album, An Interpretation of Stevie Wonder's Songs.
This album is a collection of some great music and truly, an American Songbook. Weaving through the decades and generations of story tellers, this compilation seems to resonate with Mr. Mellencamp on a personal level and that always raises the bar for the quality of the material.
---