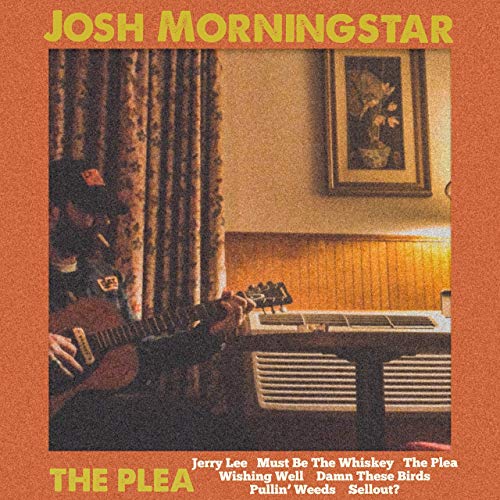 Josh Morningstar
The Plea
Young Mary Records
Josh Morningstar's newest release, The Plea, is his 6th album since he began writing music at the young age of 9. Â He's spent the last 20+ years of his life, in his own words, "studying the history of country music…studying the roots of the music that I care so much about". Â His rebellious nature and clever writing style are present in each track and his pointed lyrics and razor sharp delivery will grab your attention and make you take notice of true songwriting talent.
Josh recently signed to Young Mary Records, a label created and helmed by longtime friend and musical visionary, Mary Sparr.  That decision, coupled with adding Travis Blankenship as his manager, have him taking steps to create a huge impact in the music world.  Josh, along with Patrick Lyons, multi-instrumentalist on this album and member of Colter Walls touring band, have co-produced an album with true, honest music that reminds you what country music should be.
The first track, "Jerry Lee", is an infectious homage to the still living legend, Jerry Lee Lewis. Â Josh, ingeniously, writes himself into, and sings from the vantage point of "The Killer". He doesn't pull any punches with the prose contained in this verse ,"dangerous and meth amphetamine buzzin', crazy enough to marry my first cousin. Touched by the devil paranoid hell raiser, Fuck Chuck Berry I'm the real trail blazer", but it's not a stretch to imagine that Jerry Lee himself might smile at the sentiment of the song.
"Must be the Whiskey", co-wrote with another rising country singer, Cody Jinks, was number 21 on the Country Billboard charts and sat at #3 on the Texas charts during early 2018. Â The albums title track, "The Plea", is a life on the road song with hard hitting lyrics that include "I know it seems I only need you when I have no where else to turn to, so woman, I wish I wouldn't hurt you". Â You'll find that Josh carefully crafts the words he uses and leans on personal experience and real life to create real emotion.
"Damn These Birds" touch on familiar vices that Josh has struggled with but isn't shy to address when he graciously talks about song meanings during occasional live Instagram videos.  In one such video, Josh explains that track #4, "Wishing Well", was written about a night playing at the club. He opens up about the internal dialog of preforming and includes clever lyrics like "glass eye, past high, my favorite way to pass time. I'm too ashamed to ask how it went." Â
"Pulling weeds" and it's message that maintaining your "garden" is hard work, may actually be my favorite song on the album and features writing partner, Jaida Dreyer on backing vocals.  She also helped out with writing on both "Jerry Lee" and  "Sellout?", and if you're wondering why her name is so familiar, it's because she is the Season 1 winner of the show, Real Country.  Josh says of Jaida "… she and I have been writing together for a while and she's a star dude.  She's a fucking star and it's just a matter of time until the rest of the world realizes it, and their starting to realize it now."
"Sellout?" closes out the album with what I see as a statement about the music industry in general and the way in which Nashville treats the artists. Â The song has a lot to say and includes lines like "Last night I played the Opry but tonight I'm selling weed" and "When they hear you on the radio, the folks back home ain't gonna know your bowing down, bow down to the machine." Â It's a great way to wrap up this album, introduce new fans to his music, and give you a taste of what to expect at a live show.
The good news for fans of Josh's brand of music is that it sounds like he's working on a full length album and, is constantly out on the road. Â He can often be found staying in touch via live video with new songs, updates on where he'll be playing, and who he's writing with. Â You can download his EP from all the usual online haunts but also check out his website, grab a CD, if they are not sold out, and get familiar with a true artist.
---