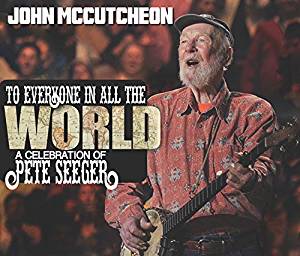 John McCutcheon
To Everyone In All The World: A Celebration of Pete Seeger
Appleseed Productions
Listening to this tribute to Pete Seeger takes me way, way back. The very first record I played over and over was a collection of folk tunes from my parent's collection. I have no idea who played on that record. The tunes were mainly traditional folk tunes about combing hair with a wagon wheel with a banjo on your knee. That record was the gateway drug for a five year old, Bob. I'm pretty sure there were some Pete Seeger songs on that disc. I know I destroyed the record because I didn't' t know how to treat a record. Sorry Mom and Dad.
The title track, "To Everyone in all the World" is a tune John McCutcheon also discovered as a kid. Pete Seeger's "We Shall Overcome" was John's gateway to a lifelong passion for folk music of all sorts. McCutcheon does a great job curating a collection that reflects the wide ranging influence on popular music. "If I Had A Hammer" gets a bit of a Cajun kick from Michael Doucet and members of Beausoleil. Jon Carroll's piano gives "Letter to Eve" a swingin' jazz feel. Suzy Bogguss lends her voice to the sweet and sentimental "Sailing Down My Golden River". "Living in the Country" is a pretty instrumental that let's John loose on hammered dulcimer. The Byrds had a huge hit with their rendition of "Turn, Turn, Turn". This is the safe side of Pete Seeger. The side of Pete Seeger your elementary school music teacher will share with you.
Pete Seeger was a rabble-rouser. "Waist Deep in the Big Muddy" got Seeger kicked off the Smother's Brother Comedy Hour in 1967. The network censors didn't appreciate a song questioning the wisdom of military commanders. In the song, an arrogant captain orders his platoon into deeper and deeper water, ignoring the advice of his NCO's. The platoon is only saved when the captain is drowns in the swollen river. In 1967, the song was a clear allegory for the Vietnam conflict. It applies just as well to Afghanistan now.
There are a couple tunes here that speak to the economic inequality that's growing the 21st century, even though they were written to comment on the economic inequality of the early 20th century. "Mrs. Clara Sullivan's Letter" is interesting in that the lyrics were adapted from a letter sent to the Labor News. Mrs. Sullivan wrote about how the coal companies exploited the miners.
Corey Harris brings a funky blues feel to "Talking Union". The song was originally written as a rallying cry for organized labor. The line "if you wait for the boss to raise your pay, you'll be waiting till judgment day" is really as relevant as it was then. The company town has been replaced by student loan and credit card debt, but the problem of not being able to get ahead is similar.
Thank you for the history and civics lesson. We're stronger when we're not divided.
---