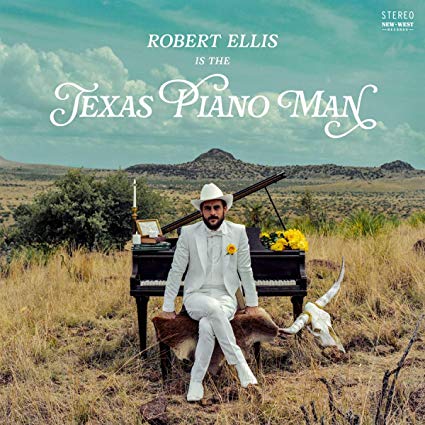 Robert Ellis
Texas Piano Man
New West Records
Texas Piano Man is the fifth release by the Texas native, but, the first completely written on piano. It's eleven tracks that cover everything from deeply personal relationships, the lack of smokers these days, to a lovely little tune about sparkling water. And while I don't often label an album a masterpiece, this one fits that classification to a tee.
It's an eclectic mix of piano driven songs that cover all the greatest piano players, as well as the sounds that are straight out of the '70s greatest hits. It's hard not to make references to legends like Elton John, The Beatles, and Billy Joel while realizing that it's completely, and uniquely, Robert Ellis. He went all in on every level with this album and while previously seen as more of a guitar player, he nails the piano player/singer songwriter role and blew me away on each song.
He isn't afraid to write with a little tongue in cheek approach that leaves you wondering how serious he is, as in the first song on the album, "You're Fucking Crazy". With lyrics like "I never know from one moment to the next, who you're gonna be, Sometimes I think you may be even crazier than me", you catch the whimsy while still feeling the weight of those lyrics. It is a fantastic song to kick off the album and while not radio friendly, once it starts getting air play on various outlets, it's going to make some noise.
Besides that barn-burner of an opener, my favorite track on the album is "When You're Away". It's chorus of "When you're here I can finally catch my breath again. I'm only happy when you're here" has a beautiful melody and Roberts delivery on the vocals perfectly matches the sentiment. Another great example of the power of the piano and this man who knows how to wield it.
Songs like "Nobody Smokes Anymore", "Passive Aggressive", and "Topo Chico" are more light-hearted in nature while being integral pieces of the whole of the album. "Father" is a heavy look at the subject of an absent father that is being asked to fill in the gaps while also wondering if a friendship can come out of the missed years. While the song is not actually autobiographical, it's easy to believe in the sincerity he sings in each line.
Maybe it's Robert Ellis's smooth, yet occasionally strained delivery, or the excellent piano playing that the entire album is built on, but Texas Piano Man emotes a genuine vibe. Throw this album up next to some real '70s royalty like Jim Croce or Leon Russell, and it will feel right at home and just as real. Available now as a download, cd, and also in a unique mix of colored vinyl, I'd suggest grabbing this one quickly, as I just did, and be the one to stun your friends with Texas Piano Man.
---