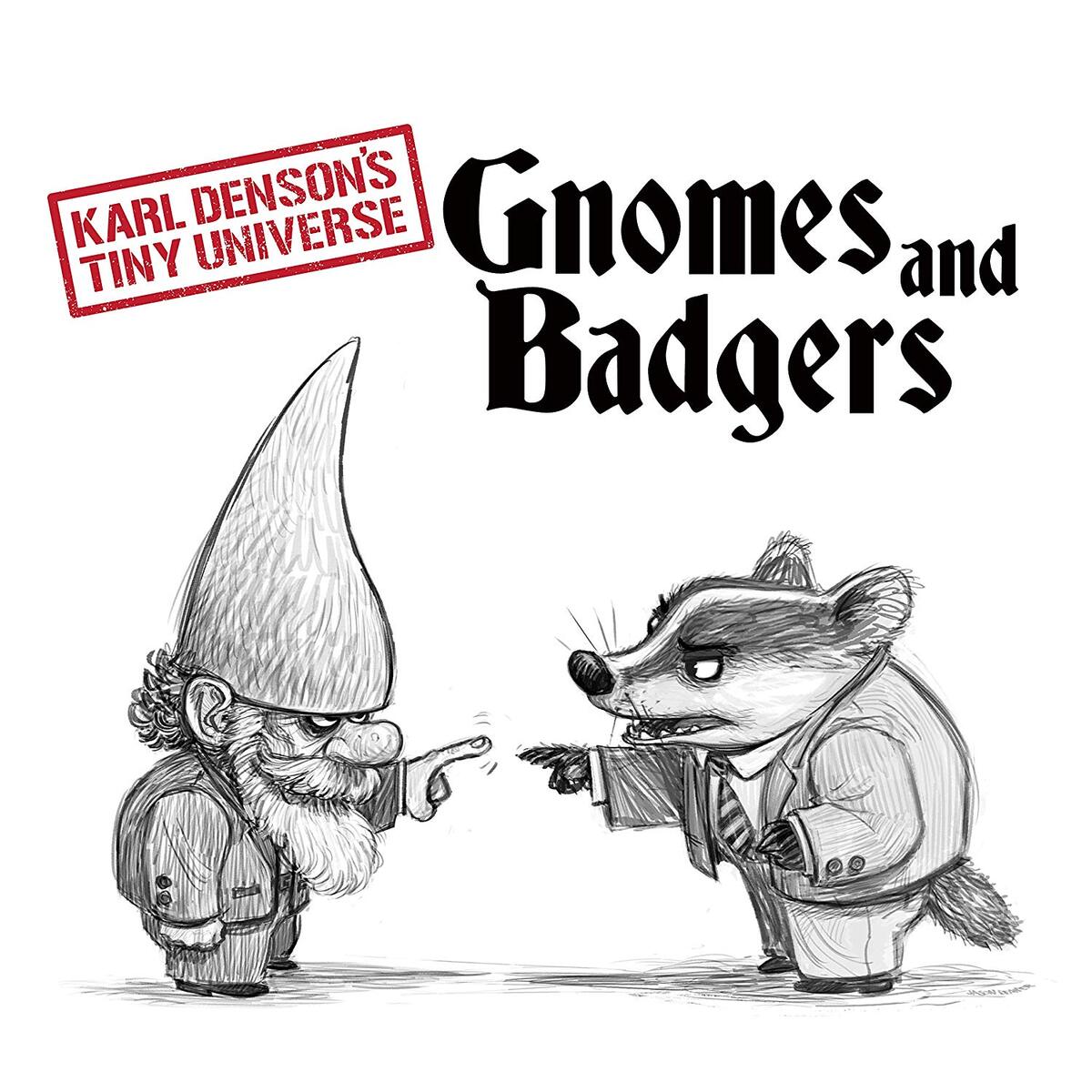 Karl Denson's Tiny Universe
Gnomes & Badgers
Seven Spheres Records
Karl Denson's Tiny Universe is the best kept secret in music. The seven-piece band is a favorite on the jam-band festival circuit, and it's no wonder. Their live performance is mind-blowing. Denson is one of the funkiest singer-songwriter-multi-instrumentalists to ever grace this planet. A founding member of The Greyboy Allstars, Denson has worked with everyone from Lenny Kravitz and Blind Boys of Alabama to Steve Winwood, Gov't Mule and Slightly Stoopid. He has been the touring saxophonist for The Rolling Stones since 2014 but also continues touring with KDTU on a regular basis. With the band's latest release, Gnomes & Badgers, Denson and company offer a brilliant, politically charged masterpiece oozing with funk, jazz, r&b and soul to followup 2014's New Ammo. Ten of the eleven tracks were either written or co-written by Denson. Band members include guitarists DJ Williams and Seth Freeman, bassist Chris Stillwell, drummer Zak Najor, keyboardist David Veith, and trumpeter Chris Littlefield. The Denson-produced, guest-laden album offers a mixture of gritty funk and soul that grabs you on first listen and takes you along for the ride.
From the opening notes of the first track, "What If You Knew," KDTU smacks it out of the park with funk-laced, groovy hooks and strong vocals from Denson. Lukas Nelson's guitar solo and Denson's tasty sax add some extra stank to the already stankified "Something Sweet," while Allman Brothers Band alum and long-time Rolling Stones touring keyboardist/musical director, Chuck Leavell, kicks up the trippy "Smart Boy" with a potent piano solo. The Brownout Horns really blaze on this one as well while Stillwell lays down some major bass lines. The tongue-in-cheek "I'm Your Biggest Fan" (yes, it's about a stalker) will (sorta) bring a smile to your face but (kinda) scare you, while the slower, R&B tempo of "Falling Down" hearkens back to Steely Dan. Doing serious justice to the only cover, the Leo Nocentelli-penned "Gossip" (The Meters) really allows the guitars to soar.
While every track is stellar here, it's "Change My Way" (co-written by Denson, Anders Osborne, Adrian Quesada, and Ivan Neville) and "Millvale, PA" (co-written by Denson and Alan Evans), both featuring Osborne on guitar, that are the crowning jewels of this record. In addition to Osborne, "Change My Way" also boasts guest keyboardist and NOLA god Ivan Neville (Dumpstaphunk) and several guest backing vocalists who collectively create a blistering, anthemic sound while making you really think about the world we live in today. Smack in the middle of the record is "Millvale, PA," the jam that you expect and love from KDTU with an all-star cast of characters and my top pick. The five and a half minute monster instrumental again features Osborne, Neville, the Brownout Horns, and many others, and really spotlights each instrument.
Throwing in an unexpected jazz curveball for the closer with "Just Remembered," a jazzy, R&B number with a cool keys solo and lead vocals from Rebecca Jade, the record ends on the perfect note.
This is definitely one of my favorite releases of the year so far. It's a statement record that sends a bold message – one we really need right now with the current atmosphere of our country and world. But if politics aren't your thing, look at this for what it is – a tight release filled with the heavy grooves and funky jams that are trademark KDTU – there is nothing over the top here and all the musicians shine equally. You cannot possibly sit still when this music is playing. If you've never heard the studio music or live performance from this innovative collective with echoes of Tower of Power, I guarantee that one listen of this new release will make you an instant fan. Catch Denson on various dates with KDTU and also as he once again embarks on The Rolling Stones Summer Tour as their featured saxophonist.
---