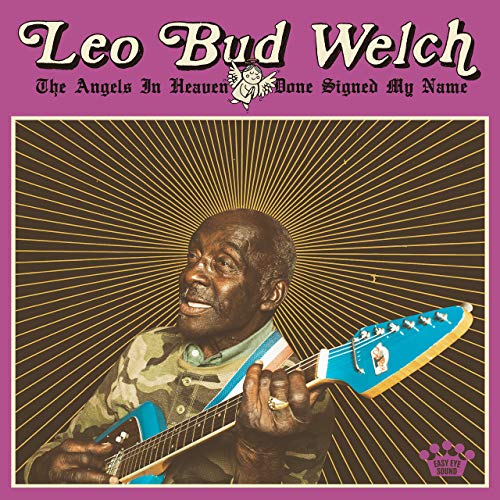 Leo Bud Welch
The Angels in Heaven Done Signed My Name
Easy Eye Sound
For a guy who's recording career didn't begin until he was 81 (with 2014's Sabougla Voices) and continued with the marvelous I Don't Prefer No Blues from 2015, the Mississippi bluesman Leo Bud Welch left us with some fine music to remember him by.
And now his final recordings – The Angels in Heaven Done Signed My Name – have been released, and the ten cuts found here continue his gritty, unaffected style. Produced by the Black Keys front man Dan Auerbach, Welch brings a gospel reverence to such traditional moments such as "Jesus Is On The Mainline" and "Walk With Me Lord". In addition to producing and playing guitar, Auerbach has assembled a great backing group, including Leon Michels (Sharon Jones & The Dap-Kings, The Arcs) on keyboards, journeyman Nashville bassist Dave Roe and sadly, the late Richard Swift (The Shins, The Black Keys) on drums. Much like Auerbach did on the great 2012 Dr. John release,
Locked Down, he places Welch and his snaky guitar in a bed of groove, with moments such as "I Know I've Been Changed" and "Let It Shine" raising the roof and getting folks out of their pews and onto the juke-joint dance floor.
Fans of the early work of Ry Cooder and Mississippi Fred McDowell will have this release on infinite repeat, but for folks that haven't been ordained by the blues power of Welch, this is a great introduction to his primitive style. One hopes that the remaining tracks cut at the session see release one day, but until then, The Angels in Heaven Done Signed My Name is a fitting farewell to one of the last of the old-time bluesmen. RIP Leo Bud Welch.
---