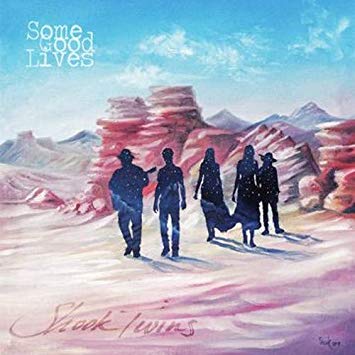 Shook Twins
Some Good Lives
Dutch Records
Katelyn and Laurie Shook's new album, Some Good Lives, is a loving homage to the various influences they share in friends and family throughout their lives. The subjects of their songs are wide and hit current events as well as the songs just to honor those that are no longer around. Their press release on the album states that, "…it's an album for Some Good Lives that have crossed paths with ours… and to them, we are grateful."
They recorded at Hallowed Halls in Portland Oregon, a familiar location to the twins and where I first became aware of them through their One Mic Series session with producer John Cuniberti. They returned to the old library which, as they say, "feels full of stories" and accounts for the vibrant, live feel that plays an important part of the album's sound. They were joined by Barra Brown on drums, Sydney Nash on bass, Niko Slice on guitar and mandolin, and Gregory Alan Isakov, who added a number of instruments to help create the unique vibe of the songs.
Katelyn and Laurie do a fantastic job of mixing up the genres on the album while maintaining their signature folksy, Americana sound. The funky opening track, "What Have We Done", is a perfect example of their range and was inspired by the Bernie Sanders presidential campaign. It's a powerful start to the album and asks the ever present question these days, "My God what have we done to our selves?".
"Figure it Out" and "No Choice" seem to hang their sound on more of a 1950's feel that blends their traditional roots with great modern accents.Songs like "Vessels", "Got your Message", Talkie Walkie" and "Buoy" are great acoustically based that the Shook twins do so well, but also carry those interesting sounds layered on by Isakov. "Grandpas Piano", "Moonlight Sonata", and "Dog Beach" are very personal recordings of the people that have influenced them and a nice touch to the story the sisters are giving their audience.
The album is available now and the Shook Twins are out touring the Western half of the country in support. Grab a copy online, or better yet in person at a show, and keep the Shook Twins out creating and preforming new and heartfelt music.
---