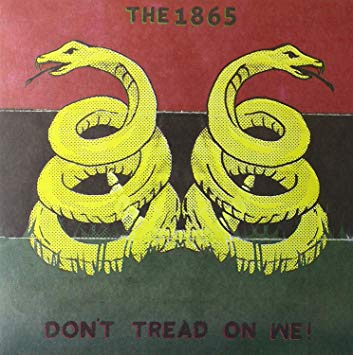 The 1865
Don't Tread on We!
Mass Appeal
I think the best way to approach The 1865 is as a work of audio theater. The Who did an album dramatizing the riff between Mods and Rockers in the 1960s on Quadrophenia. Well The 1865 takes us back to the days just after the Civil War. The conceit here is that a rock band has formed to play music for and about the newly freed. The album sets up the premise with a bit of dialog that opens the disc with people talking about the band and speculating on how Master will take credit for it and sell it back to them.
The 1865 is the brainchild of musician/filmmaker, Sacha Jenkins who recruited Carolyn "Honeychild" Coleman to sing lead vocals and play baritone guitar. Afro-Brazilian bassist Flora Lucini and drummer Jason Lucas round out the line up. Together, they image what might have gone down if, somehow, the Bad Brains, Black Flag and the Runaways plugged in at a juke joint down the road from a collapsed plantation in the rough and tumble Dixie of 1865.
As you can imagine, the songs deal with some pretty emotional topics. The first proper song, "Peggy," is about a woman who killed her own children to save them from a life in chains. She had made it to a Free State, but the slave hunters dragged her back to the plantation On "Beholden," a woman tells about how she was used sexually by her owner. Coleman sings "what more do you need? You took everything from me. My daughter, my sister, my wife," The chorus is an anguished cry of "Get out!"
The most defiant song on the disc is "Buckshot". Coleman sings about searching for Abe's America, secretly learning to read and taking her freedom without warning. It ends with the emphatic declaration, "Fuck Picking Cotton." Buckshot is reprised as a hidden track so that the last word from the 1865 is FUCK PICKING COTTON!
---