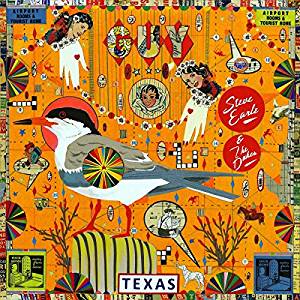 Steve Earle & The Dukes
Guy
New West Records
Steve Earle and the Dukes latest release, Guy, is a fantastic ode to Steve's mentor Guy Clark, who passed away of lymphoma in 2016. Steve "understudied" with Guy back in his formative years playing bass in Guy's band, singing on his 1975 debut album, Old No. 1, and continued their relationship as they went on to their own journeys. The albums liner notes tell a story by Steve about a get together of all Guys "compadres and acolytes" after his passing that finishes with Steve saying …"I'll leave this world with only one regret and that is that I never wrote a song with Guy Clark."
In a broader sense, this album will have to suffice as that song that never was and serve as a lasting collaboration between Guy's music, and Steve gifting us with his versions of these songs. Songs like "Desperadoes Waiting For A Train", "The Randall Knife", "That Old Time Feeling", "The Last Gunfighter Ballad", and "L.A. Freeway" take on a special meaning when considering the songs lyrics and the circumstances of the album. The closing track, "Old Friends", includes many of Guy's friends that include Shawn Camp, Verlon Thompson, Mickey Raphael, Jim McGuire, Gary Nicholson, Terry Allen, Jerry Jeff Walker, Emmylou Harris, Rodney Crowell, and Jo Harvey Allen.
On a recent Outlaw Country Cruise Steve Earle & The Dukes, who consist of Chris Masterson, Elanore Whitmore, Ricky Ray Jackson, Kelley Looney, and Brad Pemberton, played the album in it's entirety, and Steve came to the realization that, "Ok, the problem with this record is gonna be just getting through this stuff sometimes, cause it's pretty emotional for me. I play this stuff as close to the way he played it as I can, most of it…same way it was with the Townes record…it's a very big deal…as a songwriter and a singer you know there's living in a world without Guy Clark, for me is really an adjustment."
There isn't much more to be said that the album as a whole doesn't already drive home to the listener. It's a labor of love that Steve Earle & The Dukes, and some "Old Friends" have created as an enduring tribute to Guy Clark's music. This is a great time to dive into Guy's catalog and experience why his music is a cornerstone for great songwriters.
---