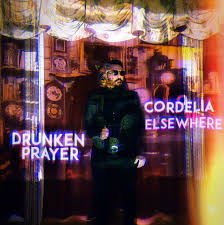 Drunken Prayer
Cordelia Elsewhere
Deer Lodge Records
Drunken Prayer, which is Morgan Geer – you know him from those great Freakwater albums – is back with his fifth album Cordelia Elsewhere, and it's a doozy of a spin. Produced by Mitch Easter, and featuring Erich Hubner (Man or Astro-man?) on bass, Brian Landrum on drums, the fine fiddle of Jason Krekel, and Alex McMahon on pedal steel from The Handsome Family, the albums ten cuts share a ramshackle charm, not quite country, not quite rock, and repeated listens always seem to uncover something new.
Take "Cordelia", the second track. In a voice not heard since Levon Helm was healthy Geer sings "I hate what they did to my town so I moved to another town/God damn I wanna be free/Cordelia fetch my wings…", and for a moment you're reminded where all this "alt-country" stuff came from – rockers examining their roots. "Science" is a sturdy rocker, whereas "Fifty Foot Locust" is a wry, low-key moment from Geer and Krekel. "It Happens All the Time" and "Four Leaf Clover" wouldn't sound out of place on those beloved Yellow Pills power-pop collections and a nice bit of southern soul follows with "Ni Ni Neo".
The album's emotional height is "Sparks", which finds Geer at his most compelling, riding a Band-type groove into the sunset. By the time the record ends with the quiet, Nilsson-ish "Time to Go", with soft nylon string guitar and electric piano, you're ready to hear it all again. Cordelia Elsewhere is an early pick for year-end "best of" lists, and I'm betting folks won't be going "Who?" when Morgan Geer's Drunken Prayer gets mentioned. Good, good stuff.
---